How do Canadians feel about flyers in 2020?
Some flyers have been discontinued during the pandemic – but was it the right choice?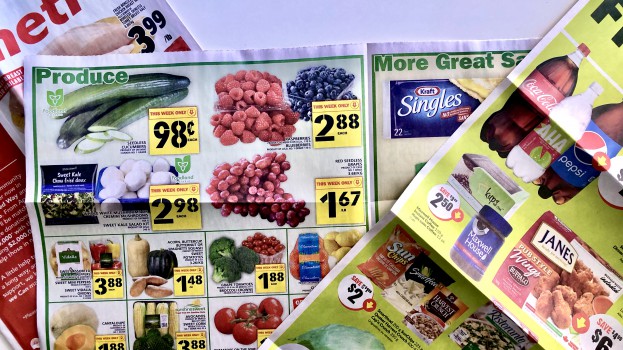 The COVID-19 pandemic caused some initial shifts in the way some retailers approached their flyers, particularly print. Canadian Tire initially paused distribution during March, while Loblaw put flyers on hold for some of its brands, discontinuing print flyers permanently for No Frills and Real Canadian Superstore.
However, for those who have continued to distribute flyers, they are still being read by Canadians looking for a deal.
According to a survey conducted by Postmedia in June, 85% of respondents still read printed flyers.
And while switching to online flyers may have seemed economical, only 9% of respondents say they exclusively read digital flyers, while 27% never read digital flyers.
And, with respect to the current pandemic and its impact on consumption habits of print flyers, 83% of the 4,500 respondents said that their usage remained the same as pre-pandemic.
But newspapers are nevertheless feeling the sting. Jutta Grunewald, SVP of national revenue and Client Partnerships at Postmedia, says there has been a significant dip in flyer revenues because of COVID-19 versus this time last year. "Inserts were down across the industry in the early weeks of the pandemic as a result of shifting marketing budgets related to Canada-wide lockdowns," she tells MiC. "There was a lot of uncertainty during that time period – as there continues to be – about consumers' habits and consumption patterns. It's why we went out to Canadian flyer consumers to see if their usage habits had changed as well."
She found the low number of digital-only flyer consumers surprising but that it did validate the power of print flyers and inserts and their strength as a marketing tool for retailers and brand advertisers – particularly during a time of changing behaviours.
Flyer bundles and weekly newspapers are Canadians' main source of flyers. Over half of respondents (52%) always read the flyers, 19% most of the time, and 14% some of the time. Only 16% never read flyers.
"What was reinforced in the survey results was that advertisers can be reassured that consumers read and want the printed flyer," says Grunewald. "In many ways, through the pandemic, we have seen more intimate relationships develop between consumers and the brands they choose to trust. Flyers come directly to consumers' homes and have the express purpose of saving people money on products available in their local area."