Twitter to create special fan moments for WNBA, NHL
The platform will broadcast WNBA matches, while also letting fans cheer hockey players "in-arena."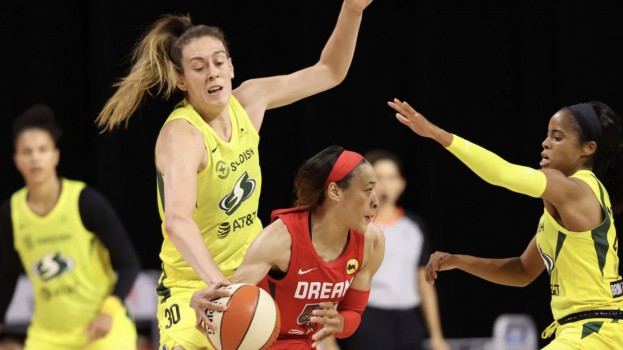 As team sports resume worldwide, Twitter plans to give basketball fans a treat.
The social media platform will broadcast 10 of the WNBA's regular season games in full, with alternative commentators offering play-by-play and analysis directly through Twitter. The first game will air tonight.
"WNBA fans are really devoted," says Conor Clarance, Twitter Canada's head of sports. "Like, for me, I'm personally really invested in Sabrina Ionescu's return."
Ionescu, who was selected as the top draft pick by the New York Liberty, has lived up to her reputation all season – but an ankle injury last week has threatened to derail that. Ionescu's season hasn't been declared over yet, and Clarance says there are droves of fans who are eagerly awaiting a triumphant return from the rookie, which he says speaks to the love and passion people have for the WNBA.
"We really recognize the growth of that league," says Clarance. "As it's gotten bigger and bigger, the money follows."
In what Clarance describes as "typical fashion" for Twitter's Amplify program, the games will be supported by video ads from various brands.
It's not just basketball fans who will see some action on Twitter. Starting this week, Twitter will also bridge the gap for NHL fans who can't be there in person.
Fan Tweets will be brought rinkside through a partnership between Twitter and the NHL. The official NHL account, as well as teams' Twitter accounts, will prompt fans to send Tweets and photos of handmade signs to encourage their favourite teams and players using #NHLWarmUps. Top Tweets will be displayed on in-arena screens in Toronto and Edmonton during warm-ups.
Clarance says teams are getting creative with their lack of fans – especially on social. "When you look at some of the humorous take that NHL teams have had throughout the bubble with no fans in the seats, it feels like we're discovering more and more ways for the league to connect with those sports fans."
Twitter has worked with a number of other sports organizations – such as the PGA – throughout the pandemic in an effort to capitalize on the engagement of fans who have been otherwise starved for sports content.
Clarance says throughout these endeavours – and over the years that it's broadcast sports – one of the things he's learned is that content comes before perfections.
"We used to work with this idea that if you're putting content out, it has to be polished, it has to be 100% perfect," he says. "The expectation from the fan is really, 'Give me the content at 80% [quality] but give it to me fast.'"
Another learning, he says, is that after nearly five months without their favourite sports, people don't just want games. "They want behind-the-scenes knowledge," he says. "And we've seen a lot of leagues and teams and even broadcasters really lean into the fact that no one knows what's going to happen."
For example, he says, the Pittsburgh Penguins posted footage of some team members playing soccer on BMO Field as part of a day excursion to get some outdoor time during the bubble. "I don't know if [posting that type of content on social] would have happened normally," says Clarance.
But as a content delivery platform, he says, Twitter has to be reactive and quick, because users are more leaned in. "The way fans engage with radio and even TV tends to be more passive. This is more like in-arena – you engage with the team, you engage with the concession providers, with the usher. There's that large-scale roar. We're finding ways to replicate that large-scale roar of the stadium. Fans aren't in the seats, but that movement has shifted."