Could Animal Crossing be a 'new horizon' for marketers?
Hellmann's is the latest brand (of many) to integrate into the game. How has the platform changed the way marketers think of gaming?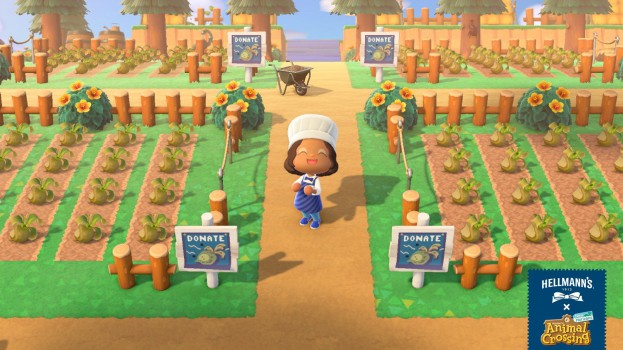 Gaming has always intensely interested  Canadians, but the profile of gaming as a potential advertising vehicle has risen greatly during the pandemic.
While many games still aren't selling traditional media placements, some brands have recognized the potential in the medium by creating atypical integrations. The latest Canadian brand to do so is Hellmann's, which created its own "Hellmann's Island" in Animal Crossing: New Horizons. The island, which goes live next Monday, allows players to drop off their spoiled turnips (the turnips purchased in the game spoil if they're not sold within the week) at Hellmann's Island, with the brand converting the virtual food waste into real-life meals. In exchange for the spoiled virtual root veggies, Hellmann's will donate 25,000 meals to Canadian food rescue agency Second Harvest. While Hellmann's media AOR is Mindshare Canada, this initiative was led by its creative partners at Ogilvy.
Is the game changing the way marketers view video games?
Steven Pemberton, digital analyst for UM Canada, says he's seeing integrations with Animal Crossing: New Horizons begin to evolve – and the agency is keeping a close eye on the medium, increasingly helping clients understand it.
It was only a few months ago that Hudson's Bay integrated its brand into the game by using its iconic stripes as a pattern with which players could adorn shirts and furniture. But Pemberton says in a relatively short amount of time, brands who aren't apparel or design-based have gotten very clever at creating integrations.
"It's become more about building an experience," he says. "Brands can attend or host in-game events, like a Bug-Off."
Bug-Offs are events where players collect bugs to build their in-game currency. "Outside of the apparel lens, we saw Getty Images go out and build in-game galleries, and KFC in the Philippines launched virtual versions of their restaurants – the brand did a promotion through their Facebook page letting people know where they'd be at a certain time, and players could go there and meet a digital Colonel Sanders for an offer code."
His colleague, director of digital strategy and partnerships Dennis Truong, says these kinds of activations are becoming especially handy as marketers have had to pull back on media budgets during the COVID-triggered recession. "Animal Crossing is a low cost-of-entry – basically all you need is a Nintendo Switch. We've seen a few brands leveraging paid or organic social to post, let their social following know they're going to be somewhere. And it becomes a great way to create content for your social channels in turn."
Truong and Pemberton point out that Animal Crossing skews much more female than typical video games do, and that it also captures the elusive 18 to 34 demographic. Neither experts think the game will be a flash in the pan or that it will disappear once more pandemic restrictions lift. Pemberton points out that the franchise has been around since the early aughts.
"As each new iteration comes out, they've been able to grow that audience each time." While Truong doesn't doubt that COVID has accelerated use, he says the pandemic has overall increased the profile and legitimacy of gaming in general, especially when it comes to marketers.
"I think a lot of marketers' perspectives have changed," he says. "What was once seen as more alternative content is a lot more mainstream. So for marketers who haven't really gotten their feet wet with gaming, I think Animal Crossing is a good start."