Is Instagram's new feature a reel game-changer?
At first glance, Reels have more than a little in common with TikToks – but that hasn't stopped Instagram from succeeding before.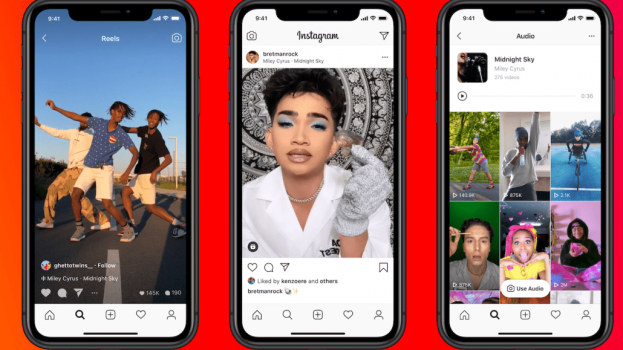 Instagram has thrown another gauntlet in the short-form video arena with the launch of Reels, a new product that enables users to record and edit 15-second multi-clip videos with audio, effects, and other creative tools.
Naturally, it took only minutes following the Reels unveiling last week for buyers, journalists and pundits to draw comparison between Reels and TikTok. Most of the creative tools are the same, with the main difference being that TikTok allows clips up to 60-seconds while Reels limits video to 15-seconds.
TikTok rapidly became a major destination not only for young social media users, but also for brands, with advertisers such as Baskin Robbins and Aldo.
Andrea Lawlor, director of social media at Havas Media Canada says, "Reels is the imminent competitive product that we anticipated Instagram would roll out, especially given TikTok's meteoric rise within the social platform space over the last 12 months." It's not the first time Instagram has taken inspiration from a competing short-form product – in 2016, it debuted Stories as a response to Snapchat's flagship product, and since then Stories have attracted millions of daily users and a slew of advertisers.
Lawlor says Havas' first impressions of Reels is that they're "a combination of IG Stories and a more TikTok-like video creation toolset functionality. For power users and Instagram creators, these new features are welcome additions to expand creativity and provide a new platform for expression."
The obvious advantage for Reels, she says, is the huge active user base already on Instagram and the maturity of the platform within Canada. The challenge, however, will be shifting existing users to the new feature. "However, given that there is a large cross-usage audience between TikTok and IG, the learning curve will likely not be too steep."
Lawlor says Havas is already actively recommending that some of its clients get started with Reels, organically as there currently are no paid media solutions available for this product. "We're prioritizing brands who already have a robust organic Instagram strategy already in place and are ready to take the steps to enhance their presence on the platform."
Although there currently are not any advertising opportunities in Reels, nor are there any swipe ups or link outs for Reels content, brands can still use the format to engage current followers and reach new consumers through a new space in the IG Explore feature.
Amanda De Fields, VP of digital strategy at VMC Media, thinks that Reels' biggest advantage is the ability to consolidate the benefits of one app into another that users on Instagram are already familiar with. "This will likely allow people to have been lingering on TikTok and not producing to be more at ease and consolidate their behavior. From a client benefit, it allows them to produce similar creative without another platform to manage. I am optimistic there will be adoption, but it will depend on whether creators produce in parallel and also adopt it."
There are many ways that brands can use the format, whether it is extending their current influencer programs to include Reels, adapting content from other placements or through testing new content and ideas.
Cynthia Steele, VP of client strategy at Reprise, says even without paid media opportunities yet, now is a great time for brands to jump in. Brands that are already on IG should definitely explore extending into Reels as they have the potential to reach new consumers through Explore as well as connect with existing customers in new ways to drive deeper engagement.
"We can assume that similar to Stories, as Reels grows, there will be advertising and commerce opportunities integrated into the experience.  This is a great time for brands to test content and experiment within the space to fine tune what their approach will be once paid opportunities become available. Given IG is prioritizing surfacing Reels content, first movers will likely be rewarded with more organic visibility."
Steele adds that for brands that do use Reels, it's important to note that limited metrics are available and that a view in Reels is counted from the moment a video plays whereas feed and IGTV views are counted after three seconds, something advertisers should to be cautious of when comparing performance.