What categories have come back on Toronto radio, and which are still quiet?
Buying trends have been turned completely upside-down this year.
This summer, as Canada reopens business but continues to maintain precautions, the advertising world has seen some bounce back, while numerous media companies still struggle.
MiC examined the last three months of Media Monitors data to examine how different Toronto's radio buying looks between 2019 and 2020. In many cases, the top buyers and biggest categories are still purchasing similar quantities – the difference is that certain categories remain missing from the ad mix.
Comparing week-to-week
When looking at what the top buyers were doing week-to-week, two things become clear: the first is that Toronto's radio market has shown a steady recovery throughout the summer, and the second is that the COVID-19 crisis has disrupted typical timelines.
Even when subtracting the government and unions category – the provincial government has been a major advertiser on Toronto radio throughout the pandemic – the top buyers in Toronto are now outspending the top buyers in the city this time last year. But the pattern is completely different. Whereas summer 2019 started out with a burst in June and dipped in July before ramping up again for back-to-school time, this summer saw an extremely tepid June, with buyers gradually rising into July. After a small dip at the end of July, buying once again ramped up at a similar rate to last August.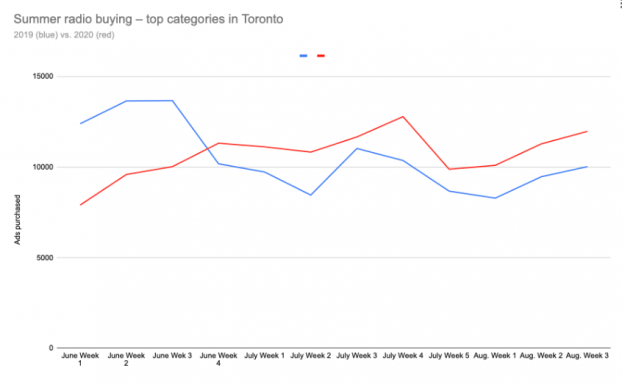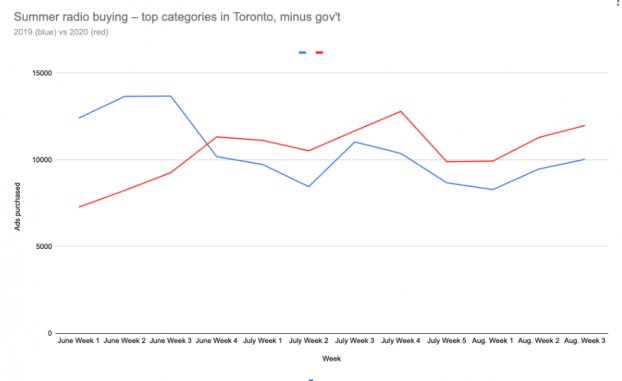 Comparing month-to-month
In June 2020, the top-five buying categories purchased, collectively, 17% fewer ads than the top-five buying categories did in June 2019. And the makeup of that top-five looked wildly different.
Aside from the finance category, which tends to maintain its buying year-round (although finance was the highest buyer in June 2019 and June 2020, its monthly total this past June was just over half of what it had been the previous June), this past June's top-five had significantly less presence from auto categories, and virtually no presence from the lotto and QSR categories – instead, the top buyers were comprised of categories like public service and government and unions.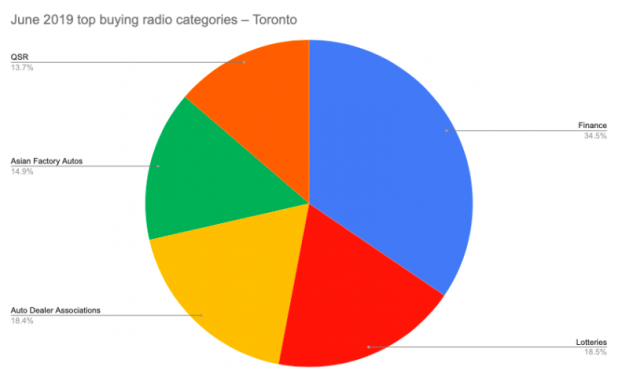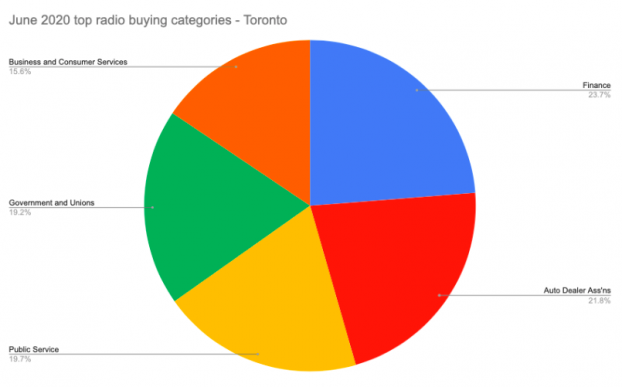 Fast-forward to July, and the top buyers for the month in 2020 actually purchased significantly more than the top buyers in 2019. But the makeup of the top-five once again looked very different. Whereas live theatre, QSRs and home improvement retailers played a big role in the mid-summer month last year, this year finance and consumer services were once again the bigger focus – although the reopening of QSRs did bring that category back up slightly, buying about 74% of the amount that it did in July 2019.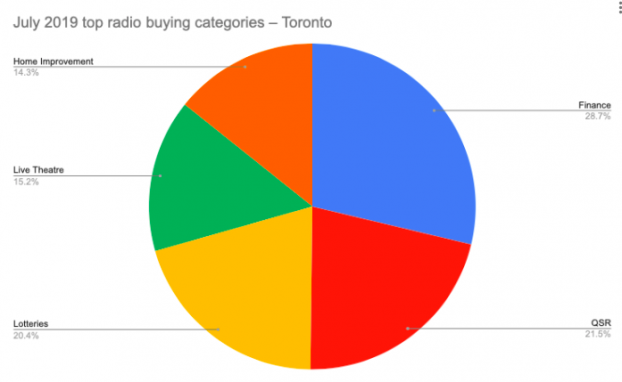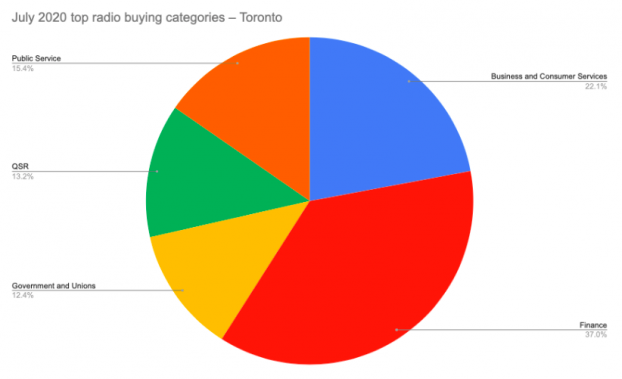 Overall, when looking on a month-to-month basis, it's clear that many of the typical perennial advertisers of summer, such as casinos, hotels and resorts, amusements and even lotteries are nowhere to be seen. Even though these categories aren't always the biggest advertisers – amusements and events only typically ramp up their spending in mid-August in time for the CNE, and even then it still pales in comparison to categories like finance and auto – those mid-range buyers make up a relatively significant part of the radio picture over time.
Additionally, this August, even though government and union spending ramped back up – between continued messages on combatting COVID from the ministry of health and spots from education unions advocating for smaller class sizes – other standard back-to-school categories such as department stores and office suppliers, which had a semi-significant presence on radio last year, have pulled back.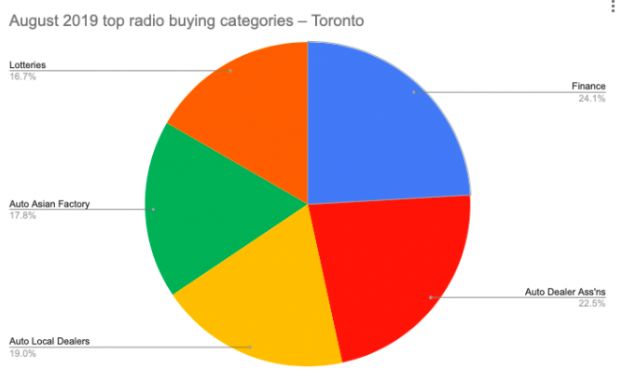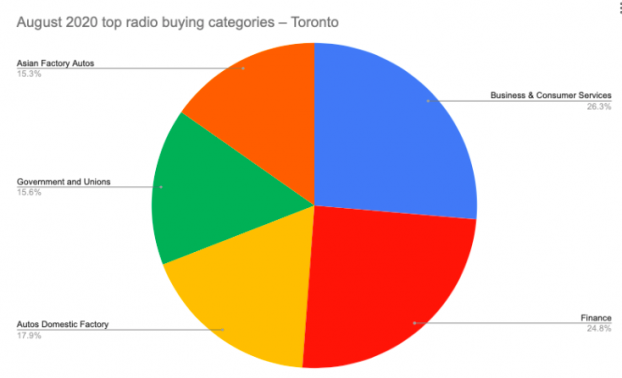 Tomorrow, MiC will show comparisons between summer 2019 and summer 2020 in the Montreal market.