What radio categories have come back in Montreal?
Government and unions have given radio a boost, but some categories – like restaurants and night clubs – are largely absent.
As the COVID-19 pandemic has ravaged numerous industries, including media, radio is in a particularly perilous position. A new report by the Canadian Association of Broadcasters predicts that a number of radio stations – largely local and independently owned – could close this year if they do not receive regulatory assistance from the CRTC.
From April to June, private radio saw a 63.5% year-over-year drop in advertising revenue, with AM radio being the most affected. According to Zenith, radio is expected to see the most drastic decrease in Canadian ad spend this year, down 15% to $1.1 billion. It is expected to see a rebound over the next two years, but it will be moderate and likely not make up for what was lost this year.
However, for the major markets where most national advertising continues to be purchased, MiC has combed two summers' worth of Media Monitors data to show how radio buying compares between 2019 and 2020. Yesterday, we examined Toronto's radio market. Today, we're looking at Montreal.
Like Toronto, the issue is not that big buyers have stopped buying in many cases – since mid-summer, the biggest buying categories have actually out-bought last year – it's that many other categories that typically buy throughout the summer have pulled back to almost nothing.
Looking week-by-week
Once again, COVID-19 and the ensuing closures resulted in typical radio buying timelines being disrupted. Last year, the biggest categories in Montreal purchased large radio ad buys toward the beginning of summer and then those waned closer to August. However, buying this summer steadily rose from a low start in June to a peak in mid-July; it dropped after that, but began building in August.
Buying activity among the top-five categories each week began to surpass 2019 in late June, although when discounting the significant spend of the government and unions category, that would have taken slightly longer.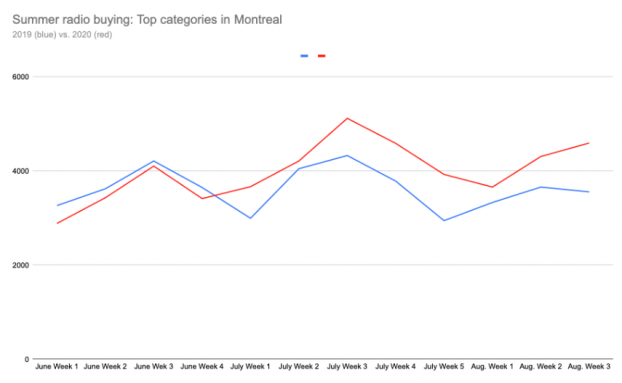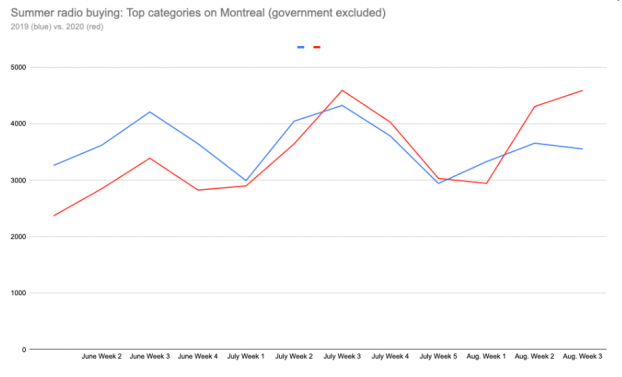 Examining month-to-month
When looking at categories on a monthly basis, it shows that there's more to the health of Montreal's radio market than simply how much the top-five advertisers are buying.
The stark differences between 2019 and 2020 are not necessarily how big the buys are, but who's buying.
Last summer, various auto categories, restaurants and night clubs, as well as bedding retailers drove the Montreal radio market – most have either pulled back to more modest buys this year (auto only recently started to play a bigger part in Montreal's big radio picture this summer) or all-but-disappeared (restaurant and night club advertising has not once cracked the top-10 yet).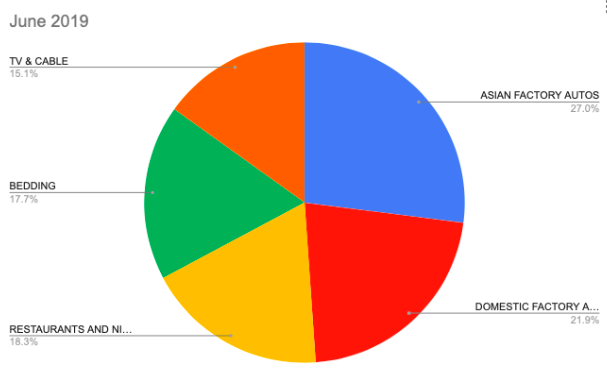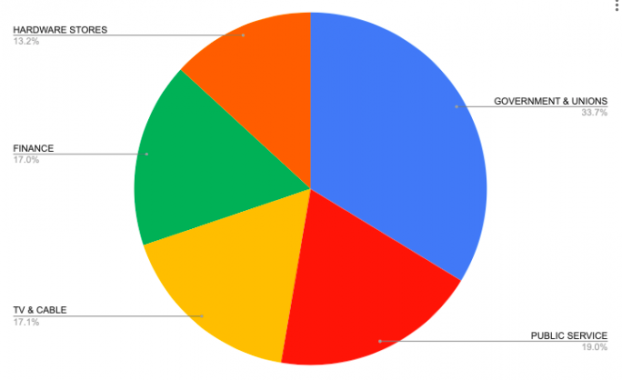 When comparing 2019 to 2020, retail-related categories have played a way less prominent part in the top advertisers – instead, that's been dominated by government and public service, as well as personal and consumer services like finance. In June, the hardware and home retail category played a bigger role, which was mainly to communicate the reopening of stores.
Overall, Montreal's big buyers this summer have been far more consistent; last summer saw surges and slumps that were, in many cases, focused on deals and sales events. This summer, there has been slightly less fluctuation in terms of which advertisers and categories are hopping on and off the charts. However, government has slowly played a less prominent role as buys from other categories swell slightly.