Behind the Buy(s): How brands are changing it up this month
What happens when you have no experiential options, when sampling is a no-go and when customers care a lot about shipping? Three brands on how they changed it up.

Michelob tries a new track
The brand: Michelob Ultra
The challenge: Michelob has made headways with younger and more health-conscious Canadians in recent years by tying its brand to running, using the experiential stunt of the Ultra Night Run. The stunt helped combine its branding of a low-cal beer fit for athletes with one of fun and excitement. But this year, with a gathering like the Ultra Night Run out of the question, it's instead hosting it virtually, with participants joining in and logging their runs online. So instead of targeting run clubs and hitting the streets, what's a brand to do?
The tactic: The main element of the new engagement campaign is a customized playlist creator with Spotify – it's successfully deployed it in two other markets and is now aiming to take North America. The Spotify custom playlist generator has existed for a short time now, but this is the first time a Canadian brand has used the tool for a custom solution. Users go to the site and input workout info, and get bespoke playlists. The playlists also include audio ads between some songs, promoting the brand and the run.
The support: In order to direct people to the playlist creator, free Spotify users have digital audio ads targeted at them during their listening journeys.
The agency: Michelob parent co AB InBev worked closely with Spotify, but Dentsu Aegis Network also helped secure the integration and buy. There was additional support from AB InBev's internal agency Draftline and audio ad solutions company A Million Ads.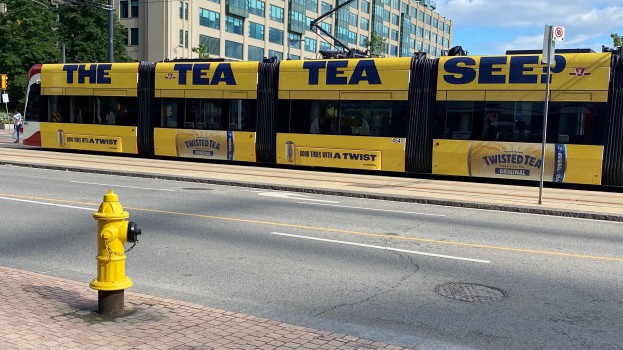 All aboard (or stay outside, you'll still get the idea)
The brand: Twisted Tea
The challenge: Summer is normally an ideal time for the ready-to-drink category – but those promotions are often centred around guerrilla marketing, sampling stunts, patio sponsorships and more. While patios did open up in early summer, many Canadians are still feeling hesitant to get out to bars and restaurants – and there are fewer opportunities to promote a drink in an increasingly crowded category.
The tactic: Although transit ridership is still way down in Toronto, the brand decided to use streetcars to its advantage as gamified mobile billboards. Two wrapped streetcars invited riders all aboard the "Tea-Tea-See" – and despite only being on two vehicles, these cars served major routes downtown (and in midtown) for more widespread exposure.
The support: Twisted Tea turned the ad into a contest by partnering with social account Streets of Toronto, which created branded posts on Facebook, Instagram and Twitter asking Torontonians to post pictures of the "Tea-Tea-See" with a corresponding hashtag to enter to win a branded prize pack. Twisted Tea tapped its media and social agencies to boost the posts.
The agency: While the brand enlisted the help of its media AOR, Media Experts, its sister social agency, Society@ME also helped with the partnership.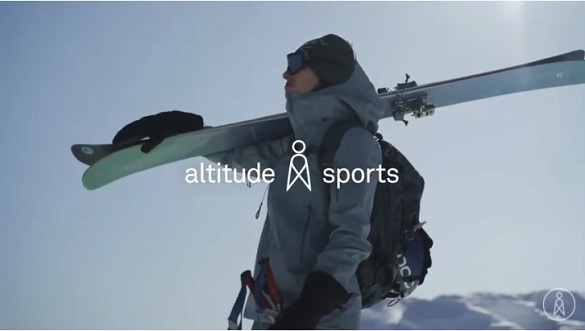 Altitude gets serious air with billboards
The brand: Altitude Sports
The challenge: The retailer was aiming to both promote its same-day delivery service and better connect with the urban customer base in the Montreal market. A survey conducted by the brand in June showed that shipping matters the most to online shopping enthusiasts, and that cost and wait times cause them to abandon their carts. With delivery being one of Altitude's core strengths, it wanted to put that front-and-centre in a big way.
The tactic: For one of its largest media campaigns to date, it conducted its first-ever OOH buy. It did so in Montreal, the first urban market to get the next-day delivery feature (it will expand to other urban centres this fall). But to avoid wasting money on diminished traffic in the Montreal core, it did a very targeted buy, choosing residential, central neighbourhoods to correspond with the postal codes of its loyal customers.
The support: Video is also a big part of this campaign, with digital videos used to highlight the number of specialty brands it carries. This will play out in YouTube pre-roll and television.
The agency: Altitude worked with small buying agency Média Secours, while handling its creative in-house.