Michelob takes its active messaging to Spotify
The Ultra Night Run has gone virtual this year, so Michelob is catching people during their virtual training routines.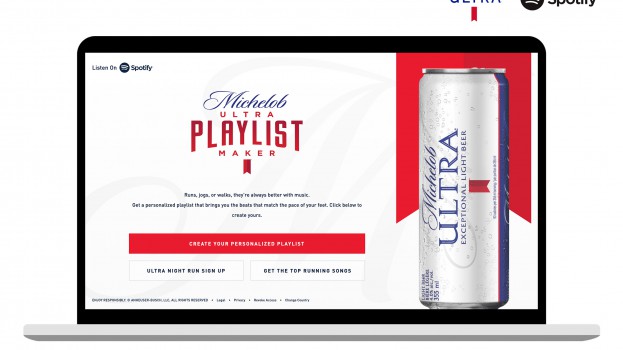 Michelob and Spotify have teamed up to create the platform's first playlist-centered dynamic ad campaign in the market. Built in partnership with AB InBev, Dentsu Aegis, Draftline and A Million Ads, Michelob Playlist Maker promotes Michelob Ultra, the brand's 90 calorie beer. This execution follows the success of the campaign in the U.K. and Mexico.
Spotify has used playlist generation tools before – like allowing users to generate playlists tailored to their pets – and has integrated brands before, but Michelob is the first brand to combine this tool with a dynamic ad campaign.
The Playlist Maker was designed to motivate and celebrate Canadian runners as they lace up, they hit the pavement or treadmill and during moments of recovery. The Playlist Maker invites users to build a personalized Spotify playlist to power their next run based on information provided by the user including running distance, intensity and location. It also combines it with Spotify user data such as listening habits and generates a customized playlist.
While the playlist streams, the runners receive tailored audio ads from Michelob. Through the microsite, runners can access the top running songs in Canada and sign up of for the Ultra Night Run. While the nighttime running event has been a major pillar for Michelob in recent years, this year the brand has had to take it virtual, Oct. 2 to 4, and runners can choose to sign up for either the five-kilometre or 10-kilometre run.
The Michelob Playlist Maker is being promoted through dynamic audio spots on Spotify that will direct Free Listeners to the microsite. The campaign runs through to the end of September.