How Corus is promoting its specialty differently this year
TV will still play a big part, but it's also leaning on connected TV, TikTok and Snapchat to attract streaming enthusiasts.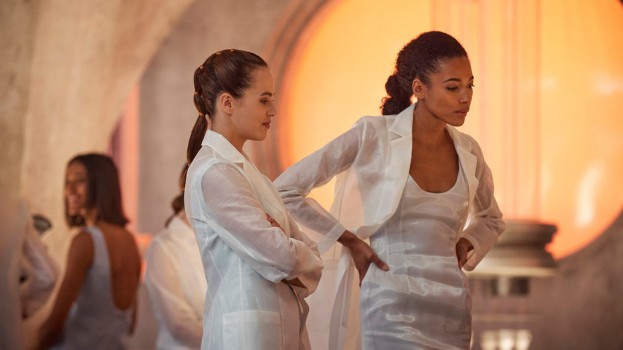 There's a common theme that Corus Entertainment is following this year when it comes to how it markets its programs: "The same thing, but different."
Allison Carr, head of multiplatform and network marketing at Corus, knows that there's a lot of "different" this year. Despite the gradual reopening of the economy, Canadians are still going through life with a great deal of trepidation and significant change to their routine. As such, Carr says, it's using a lot of the usual high-level strategies to promote shows – but it's also applying a "COVID filter" at a more tactical level.
"We've added an extra layer of thoughtfulness," Carr tells MiC. "We know how important investing in a brand is right now."
Corus is continuing to put broad, national-level spend behind its network brands in general and is also highlighting a small number of marquee shows with extra spend. The two shows getting the most media support are Showcase's Brave New World (pictured) and W's Devils. "These shows are event-worthy premieres," she says.
TV is playing a big role in the media plan – no surprises there, says Carr, although it's also adding digital buys through connected TV to reach streaming enthusiasts as well. OOH is the second biggest channel for the network because "it's always been a really important medium to drive mass awareness," says Carr, who adds that this year it's being a bit more tactical with placements. "We're getting a lot more sophisticated with the way we're buying."
It's using a mix of data from Environics, as well as Google and Apple, to understand the movements and habits of audience segments, and layering that into its OOH buying. While it continues to be mass, she says this will likely result in purchases that play to more specific audiences, rather than downtown billboards in major cities.
Digital still plays a supporting role, with takeovers on key sites for movie and TV enthusiasts like IMDB. Carr says that it's going slightly deeper with hyper-targeting, having crafted a handful of custom segments for each show. It's now thinking of digital as a "point of sale" advertisement, as a result of more consumers watching TV on digital.
While Corus' digital TV product, StackTV (which is available as a package through Amazon Prime Video and currently has 200,000 subscribers) has been around since 2019, Carr says this is a big moment for the service, with more Canadians streaming than ever before. "We're [now] including StackTV in the promotional material, so people know all the different ways they can access these shows. We're really using our fall marketing megaphone to promote it."
Finally, in social advertising, while Corus has promoted shows heavily on Instagram and Facebook for the last several years, the network is also adding TikTok and Snapchat to its remit this fall, creating custom content for each platform. Carr says Corus is looking to reach a younger audience through the popular social video apps – whether they want to watch the shows on linear or through StackTV.
Corus used its in-house agency to conduct all media buys.