Uber Eats launches its first ad format
Although the platform has added a number of marketing tools over the last several months, this is its first foray into paid ad formats.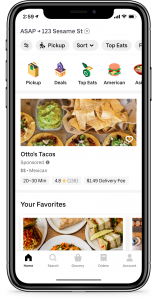 Uber Eats has made its first foray into the advertising space with the introduction of sponsored listings on its platform.
Ads on Uber Eats are available to restaurant and merchant platform partners in Toronto and Vancouver looking to reach more customers. Additional Canadian markets will follow later this year. The sponsored listings will be visible to consumers later this month.
While sponsored listings are the platform's first foray into paid digital media, Uber Eats has been adding to a small suite of marketing solutions for SMBs. The suite also includes promotions, as well as a new loyalty program for restaurant partners.
Restaurants can construct their ads directly in their Uber Eats dashboard and set audience, budget, and ad duration. They can also review the reporting dashboard to see the value of sponsored listings before deciding where and how to purchase.
Uber Eats has also announced over $1 million in marketing credits to qualified restaurants as a way to encourage more businesses to experiment with this new offering. When testing sponsored listings, early results showed that participating restaurants were getting a return on advertising spend of $5 for every dollar spent. Since select Canadian restaurants can get started with free credits, they'll be able to see their own data, and make investment decisions moving forward.
Consumers will start seeing sponsored listings in the Uber Eats app later this month, where they'll be clearly labeled in the feed.
Parent company Uber also introduced media selling to its ride-sharing business. While Uber itself is not brokering ad space, it recently partnered with new OOH network Hilite Outdoor, which provides car-top advertising for vehicles working with Uber, Lyft and other services.