How TIFF sponsors are innovating during the virtual fest
What to do when a festival goes online? Four sponsors took an alternate route this year.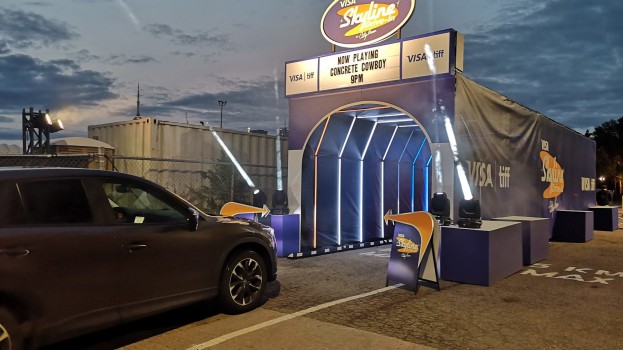 The Toronto International Film Festival (TIFF) has been one of the city's biggest annual draws since 1976 when it began as the Festival of Festivals. But this year, the glittering event has a little less of its traditional sparkle. Like all live events, TIFF and its sponsors have had to do some major pivoting to maintain awareness of their brands and excitement around a mainly virtual event, along with a few drive-in screenings.
And with no fans in the theatre seats, sponsorship dollars are more important this year than ever. In 2019, movie tickets and associated revenues brought in $21.8 million. Sponsorships brought in $13.5 million. Not all sponsors returned for 2020, including beer brand Grolsch, which served as last year's sponsor of the People's Choice Award. But other longtime and recognizable sponsors are back, including lead sponsor Bell, Royal Bank (RBC), L'Oreal Paris and Visa.
RBC has been the official bank of TIFF since 2008 and a financial partner since 2002. This sponsorship is part of the bank's long-standing commitment to supporting the arts through arts organizations, programs, and artists themselves. While it won't be activating RBC House and the RBC Red Carpet Gallery this year, the bank is the presenting partner of the RBC Lakeside Drive-in at Ontario Place, one of two drive-in venues and five physical venues audiences can enjoy this year.
Additionally, RBC's Women in Film trailers will be played in-cinema, at the Drive-Ins and before digital screenings at TIFF, as well as on social media for the duration of the Festival. The Women in Film series features filmmakers Sasha Leigh Henry, V.T. Nayani, Jennifer Podemski and Jennifer Liao, and is focused on highlighting the work done by women in the film industry.
Other ways RBC is promoting its partnership with TIFF is with a 'Best Seats in the House' contest with Narcity Canada and through a broadcast integration with CTV's The Social that puts the spotlight on RBC's Women in Film trailers. From a social perspective, RBC is sharing organic content around the RBC Lakeside Drive-In and Women in Film content series primarily on Instagram and Twitter in addition to running a paid social campaign on Facebook and Instagram.
L'Oreal Paris is in its 10th year as a sponsor of TIFF. Jessica Zagari, director of integrated communications, tells MiC how its activations have shifted online. "We've put an emphasis on storytelling through digital this year, more so than in previous years. In terms of media, it is mostly digital and through TIFF platforms."
L'Oreal's partnership this year focuses on women in film through the sponsorship of the TIFF Emerging Talent Award, with support from MGM, which celebrates a female emerging talent. In addition, Viola Davis, acclaimed actress and current L'Oreal spokesperson, takes part in a virtual conversation with Cityline's Tracy Moore to discuss his career and her role with L'Oreal.
Another long-term sponsor, Visa, has worked with TIFF for 24 years and says that its 2020 investment is consistent with past years. The brand's focus has always been on delivering an elevated experience for clients, cardholders and guests – and despite the largely virtual setting, that not changed. Visa is still creating IRL activations even amidst a unique year.
It created a unique drive-in experience at the Visa Skyline Drive-In on Toronto's waterfront that hosts film lovers in their cars during 10 nights of TIFF premieres. Three screenings will be held exclusively for cardholders, clients and small businesses.
Visa collaborated with local small businesses to create an experience with curated complimentary food and beverages from local restaurants. It replaced the red carpet with a retro LED-lit tunnel that ticketholders drive through when entering and a big neon sign beside the screen with a play on Visa's tagline "Love, accepted everywhere" that accentuates the picturesque Toronto skyline.
Its TIFF involvement is being highlighted with paid media on social channels including Twitter and Instagram, earned media relations. and sponsored content. Visa has also partnered with a number of social media influencers to help amplify its messaging around supporting small business recovery at TIFF.