Group music listening is going up. Why does this matter for brands?
The morning commute is no longer the easiest place to reach Canadians with audio – it's in parks, mid-day and during family time.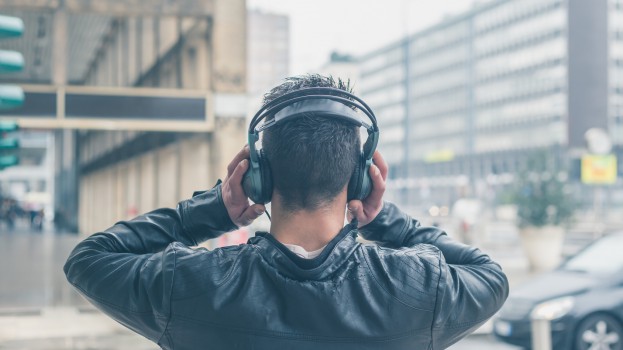 Rock 'n roll will never die.
Nor will pop, or hip-hop, or country. Music is as alive as ever. From fangirls (and boys) getting excited when Taylor Swift dropped her surprise album Folklore in July, to the global frenzy over Cardi B and Megan Thee Stallion's new single "WAP", 2020 has not changed how much Canadians listen to and care about music.
New research from Spotify, however, shows that the contexts in which Canadians listen to music have shifted – and everything from time of day to what people are listening to most is new territory for brands to navigate. The survey, executed in partnership with Mindshare Canada, took viewpoints from a combined 1,000 Canadian respondents, both in English and French – although Mindshare's director of marketing sciences Laura Donaldson says there weren't drastic consumption differences between Anglophone and Francophone Canadians.
Overall, music streaming in terms of reach and penetration hasn't changed much throughout the pandemic – 65% of Canadians say they've streamed music in the last week more than the 57% who have listened to terrestrial radio. Streaming is heaviest among Gen Z, while radio is consistent across most age groups.
Spotify boasts an average of 11.3 million unique monthly visitors from Canada. Data – from Edison Research, not from Spotify – shows that it's the top platform for penetration in Canada (28% for Spotify vs. 13% for second-place Apple Music).
Ivan Pehar, head of ad sales, Canada, for Spotify, says that despite music streaming staying consistent, "the pandemic rewrote many of our daily routines." For example, he says, travel for work remains down – still 37% lower than where it was pre-pandemic.
But there have also been big increases – like a 155% lift in people going to parks. Why does this matter? Pehar says this insight (combined with the 69% of Canadians who say they seek out music to deliberately take their mind off things) is that more people are listening to audio to relax – which makes sense considering between 40% and 50% of Canadians report feeling a mix of worry, stress and anxiety.
This has resulted in a 23% increase in time spent on some of Spotify's curated playlists in the "chill" or "relaxing" categories.
Another big change is that the number of devices people are logging into – and streaming music from – on a daily basis has increased. This counters years of mobile rising meteorically as fewer desktop devices are being used. Although mobile continues to dominate, there are now more sign-ins on desktop devices, smart speakers and gaming consoles for everyday activities.
Donaldson adds that this has resulted in connected device usage rising for music streaming. Connected TV, desktop and smart speakers have all seen an increase in music streaming – and the biggest increase goes to gaming consoles.
This coincides with another trend Pehar and his team discovered: people are listening more together. "Brands are able to get in front of the entire household, versus a single user who might be listening on their headphones."
Indeed, one-third of users say they stream music while spending time with their children.
There's also been an increase in mid-day listening, as well as weekday use with connected devices. Pehar calls this the "Every day is Sunday" insight – listening patterns are fluctuating less from day-to-day, due to the blur between weekdays and weekends.
Alli Ruffo, marketing director for media at Kimberly-Clark, appeared alongside Pehar and Donaldson with the research to discuss changing audio habits from the perspective of a big CPG buyer. Being a massive CPG company with a huge number of brands under its remit and which targets various demos at different life stages, Ruffo says it's approaching audio with more attention paid to potential mindset and context than demographics.
"The audio space is unique for us because there are different behavioural queues," she says. That goes hand-in-hand with Kimberly-Clark's current COVID buying strategies, she says, because it's pivoted to "investing more in equity building" and is focusing less on immediate sales. She says with streaming audio, it's using that as an opportunity to buy based on mood and context.