How did the Schittstorm translate to Emmy's ratings?
The viewership drop in Canada was only half of what was reportedly lost in the U.S.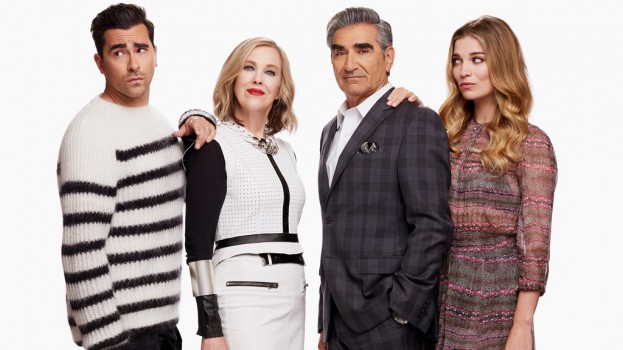 In the U.S., the 72nd Primetime Emmy Awards broke its own record – in a bad way. Early reports indicate that the show pulled in 6.1 million viewers, an 11% drop from last year's "record low."
But in Canada, the Emmys did not experience the same record drop. While no one quite knew what to predict with a remotely produced ceremony, the CanCon element proved to be a big enough draw. Overnight Numeris data provided to MiC by Bell Media showed that the ceremony brought in an AMA of 1.6 million, a 6% or 100,000 viewer drop from last year.
It was not only the first time the Emmys ever broadcast a live "remote-style" show, it was the first of all of the major award shows to do so. But for Canadians watching, there was an extra-special first. CBC's Schitt's Creek, which aired its last episode earlier this year, managed to sweep all four major acting categories and win Best Comedy Series.
Combined with a number of creative Emmys, the show "took home" nine statues (more accurately, statues were delivered by professionals in HASMAT tuxedos), making it the big winner of the night. It's the first time a Canadian series has won that many Emmys, and the largest win count in a single year by a show created by a national broadcaster.
A total of 5.3 million Canadians tuned into at least some portion of the Emmys, which was the highest-rated broadcast for the night. Bell Media did not provide information on peak audience times.