What's different about Pinterest's Story feature?
Pinterest is a very different platform from Instagram and Snapchat. Will Story Pins help it assimilate, or differentiate?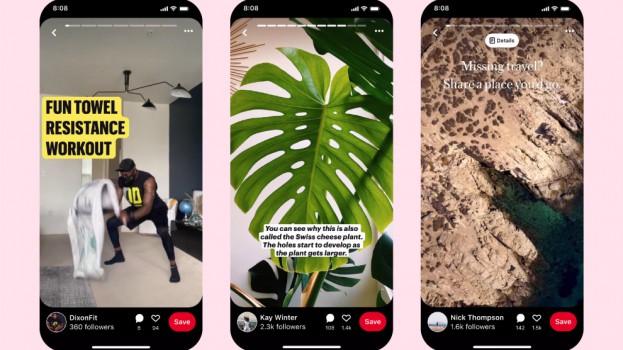 Pinterest has joined Facebook, Instagram, and Snapchat – and more recently LinkedIn – with the addition of Story Pins, a new type of Pin and publishing option.
Pinterest is rolling out Story Pins with select creators in the U.S. right now, and Pinners have already started seeing Story Pins on mobile and web. Story Pins will be launching in Canada in the coming months. All other features are now live for Pinners with business accounts. There are not yet paid ad options on Pinterest's Story Pins, but
Derek Chan, social lead at VMC Media says, it was only a matter of time before Pinterest joined the other social media giants in introducing its own version of 'Stories'.
"Seeing as how Pinterest is a platform created to inspire users, its Story Pins will only add to that. Users can now inspire their audience with step-by-step stories of tutorials, DIY projects, products, and other ideas."
Chan believes Story Pins can be differentiated from other platforms' similar features because they don't disappear after a set period of time. "They can be saved, searched, and discovered over time," he says.
While he couldn't speak to any advertising potential, Chan still says, "This is definitely a win for Pinterest as story pins will only add additional engagement and time spent on the platform."
Among the many features are a new creator profile that showcases a creator's published content, not just ideas they've saved. Pinners can now also message creators directly via the Contact or Message Card features or with Reactions, a range of positive responses such as "great idea," "wow" and "thanks" for Pinners to send feedback to creators.
Story Pins can be saved to boards for later reference or distributed across places such as home feed, search results and the Today tab. The updated Analytics hub gives creators the ability to track performance and measure impact in detail – showing things like the categories and interests their audiences engage with most.
According to Pinterest, the launch of these new tools is the biggest Pinterest update for creators yet, with all of them being focused on content publishing and growing viewership.
While Pinterest does not disclose Canada-specific traffic, globally its platform reach is at more than 400 million monthly active users, which represents an increase of nearly 40% year-over-year. Reports from the MTM put Pinterest penetration at at least 25% of Canadian adults, although more recently, Canadian buyers have said they see it as an even bigger growth area, including for men.
According to Standard Media Index, Pinterest, while not a top-10 media owner in Canada, saw revenues in the country lift by 102% year-over-year in June.