Cineplex "flexes" new place-based AI solution
The desire to create more contextual ads in-store based on both first- and third-party data drove the development.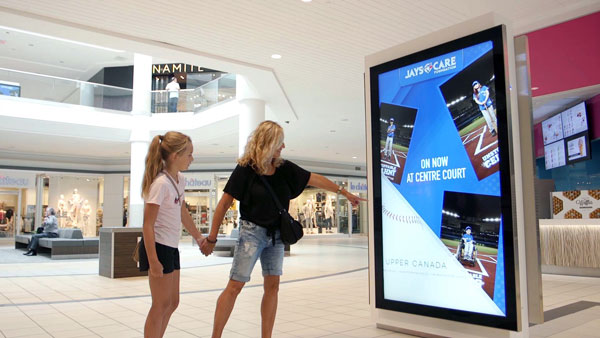 Cineplex Digital Media (CDM) has launched Flex SmartEngine, a machine learning software platform for its place-based OOH screens that makes it possible for brands to leverage their data in-store to deliver more customized content to customers in real time.
Although the new platform seems to be a well-timed response to COVID-19 OOH traffic changes, Jessica McElhone, VP of product management and data science says development of the SmartEngine began in late 2018 when one of CDM's customers asked if the signage could connect to a weather feed and change content based on weather conditions.
McElhone explains that from that first step, the SmartEngine journey began. "We wanted to create context-aware digital signage software… using more than just a weather feed."
The machine-learning engine provides business insight to monitor and measure a brand campaign's effectiveness, and recommends new content types that can perform better according to certain metrics. Besides leveraging CDM's own content management system, it is inter-operable with other prevalent CMS solutions.
While the market was ready for smarter signage before COVID-19, McElhone says, the pandemic accelerated this need. As online shopping grew and people needed to get in and out of stores quickly, retailers wanted to communicate with their customers quickly, and show relevant ad campaigns.
In addition, CDM's in-house data science team works with clients directly to build machine learning models that understand their unique businesses. The platform leverages first-party data such as transactional, POS and loyalty data, as well as second- and third-party data from many different data providers, depending on client needs. SmartEngine also provides an insights dashboard so clients can see the top played content and missed opportunities for each of their stores.
Lisa Belbeck, SmartEngine product manager, says the first beta test of the platform was done in two Cineplex theaters earlier this year, using Cineplex's POS data along with third-party data services to create a model, which then recommended which products would be shown on concession screens.
Although it was tested in Cineplex's theatres, the goal of the SmartEngine has always been to be used in a retail, place-based context. SmartEngine is now widely available to marketers.