Walmart Canada creates a limited Canadian edition of Supermarket Sweep
Although the upcoming reboot is U.S.-based, the retailer found a way to deliver a homegrown twist.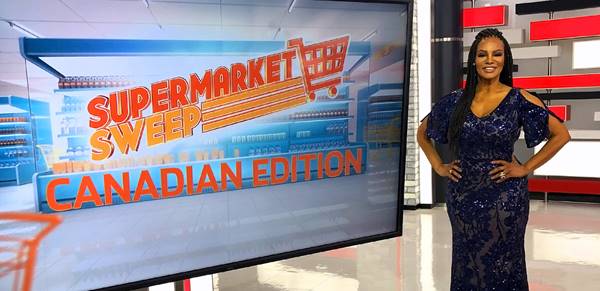 Retro game show fans, rejoice: a 2020 reboot of a classic 1960s game show will be back on the air this weekend. The reboot of Supermarket Sweep premieres on Sunday, Oct. 18 on CTV.
The fast-paced series follows three teams of two as they race around a store with carts grabbing groceries and using their shopping skills and knowledge of merchandise to win big cash prizes. The original program aired from 1965 to 1967.
Although the reboot is a U.S. production, a partnership between CTV and one key retail giant is giving viewers a special Canadian spin on the show.
As a tie-in to the series, CTV and Walmart Canada have come together in a partnership to create a multi-platform campaign, Supermarket Sweep: Canadian Edition, consisting of three "mini-sweep" segments produced by Bell Media Studios.
Bell Media tells MiC the brand partnership came about when CTV proactively approached Walmart with an idea. The two brands then worked with agency Mindshare to develop the Supermarket Sweep: Canadian Edition and the unique branding elements woven into the mini-sweep challenges.
Each segment is about two-and-a-half minutes long and features four participants competing against each other in two separate face-offs, the first of which aired last night and the second of which airs tonight on ETalk. The winner from each face-off competes in the finals that air during the commercial break of the premiere episode of Supermarket Sweep. All filming of the four participants was shot virtually.
The campaign also includes custom social media content and amplification across ETalk's channels. Social audiences can play interactive versions of the mini-sweep challenges on @etalkctv's Instagram Story.
The winner of Supermarket Sweep: Canadian Edition receives $2,500 in Walmart Canada gift cards, while an additional $2,500 will be donated to a Walmart Canada-supported charity of the winner's choice.