Toronto's Bike Share gets a media partner in Astral
The deal includes 400 ad faces, which are exposed to more than 2.4 million rides annually.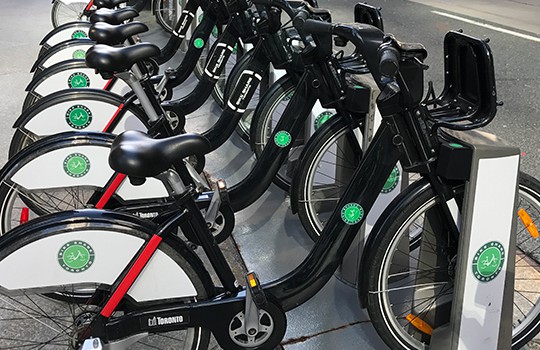 Astral, the OOH division of Bell Media, has signed an agreement with the Toronto Parking Authority (TPA) to manage the more than 400 advertising faces of Toronto's Bike Share stations, which are located in key areas across the city. Astral is the first OOH company that TPA has appointed to handle Bike Share advertising.
Bike Share Toronto is experiencing strong growth, with membership now up more than 60% compared to last year. The Bike Share system has been expanded to 6,850 bikes and 625 stations across the city. These 400 new faces are exposed to more than 2.4 million rides annually and allow for specific audience targeting in the urban landscape.
Farshad Kajouii, general manager of sales and business development at Astral and Bell Media, tells MiC the partnership is another demonstration of the company's strong relationship with the City of Toronto, and offfers a complement to its Street Furniture portfolio in Toronto.
The portfolio currently includes more than 6,000 faces displayed on both static and digital transit shelters, as well as signature columns, all strategically located in key areas of the Toronto urban core and its surroundings.
Kajouii says with the addition of the Bike Share faces, it brings more of Astral's Toronto faces all under one roof, which has been among the company's broader goals.