Media City, Signpatico join forces to become Vendo
The two companies are using their regional footholds as an advantage in their growth strategy.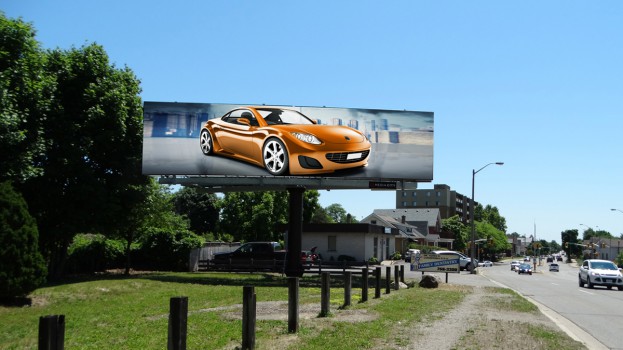 Pictured: Media City has carved out a strong foothold in mid-sized markets like Brantford, above.
The OOH landscape saw a significant change last week when two major outdoor and place-based players merged their operations. Media City and Signpatico officially inked a deal to become Vendo Media.
The new network consists of more than 240 digital faces across 73 markets.
Sylvio Deluca, CEO of the former Media City, is now chief operating officer of Vendo, while James McDonnell, CEO of the former Signpatico, is CEO of the new company.
McDonnell describes the merger as "a pinning together of complementary networks and services." One of the biggest factors that led to the merger was that both companies had their eyes on national expansion – and they were both already in the spaces that the other coveted. "Signpatico has built up what is very much a Western Canadian regional network, with a few splashes in the East. What Sylvio has built up is a very extensive network in the East, with a small presence out West. So there's very little overlap, which gave us a tremendous affinity."
While the network is now officially national, that regional foothold is very important to Vendo's success, says Deluca.
"We're doing things differently. We're going in with very much a regional approach, combined with a national approach. We're not necessarily aiming to go head-to-head with the big two and three," says Deluca, referring to some of the biggest national OOH networks like Astral, Pattison Outdoor and Outfront Media.
He says if anyone had told him when he started his company – previously known as Media Alternative – that the company would find success through small markets, "I'd have told you you were crazy." But as the company entered the new millennium and found its niche, those small- and mid-sized markets were exactly what drove its expansion. "We're in markets like Brampton and Cambridge, and there are great advantages. In a big city, you [as an advertiser] get lost. In a smaller market, you really stand out."
He adds that there is a challenge; convincing advertisers to get into smaller markets is still not always a smooth ride. But once they opt in, he says, there are many advantages. And for Vendo, exclusivity drives those advantages. Deluca says in 50% of its markets, it's either the exclusive OOH provider or holds the vast majority of OOH faces in the market, making it a key supplier.
Another advantage of highly localized OOH buying, say McDonnell and Deluca, is that with current traffic patterns due to COVID restrictions and conditions, the types of OOH formats that are considered most valuable might change.
"Traffic has come back, but it's a little different in terms of patterns," says Deluca. "People and their journeys are more localized. There's less of a downtown-as-your-go-to mentality. People are circulating around their community, their local grocery stores, shorter drives within their area."