The Amazing Race takes the top, but its views slide: Numeris
With The Masked Singer taking a week off, no show this week cracked two million views.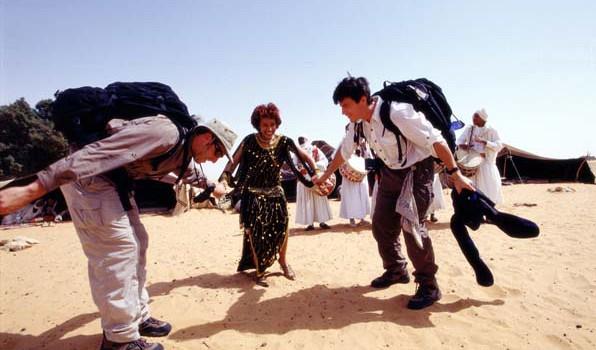 A week off for The Masked Singer meant that the U.S. version of The Amazing Race stepped into the number-one spot for single-night TV shows in terms of AMA for the week ended Oct. 25. But despite taking first place, The Amazing Race didn't grow its audience from last week. In fact, it was down to just under 1.5 million, after pulling in 1.72 million the previous week.
Saturday Night Live came in second, continuing its strong streak for the season. Rarely in recent years was the series a top-five show, but this season, the show has consistently been the second-most watched program since it returned in October.
The CTV Evening News was in third, while new series (and Canadian co-pro) Departure stayed strong with 1.28 million viewers (growing its audience slightly from the previous week). Big Brother rounded out the top-five with 1.25 million viewers.
Quebec's Francophone market faced a similar situation; with top show La voix taking a break, perennial second-place finisher Tout la vie slid into first place, although its audience remained virtually unchanged at 1.2 million viewers.
Despite pulling in top numbers nationally, The Amazing Race didn't top any of the major Anglophone markets; those were split between comedy (Toronto/Hamilton and Calgary opted for SNL), news and factual (Montreal favoured the CTV News while Vancouver/Victoria tuned into 60 Minutes) and sci-fi (Edmonton went for Star Trek: Discovery).
Canada (Anglophone)
1. The Amazing Race on CTV Wednesday at 9 p.m.: 1.5 million viewers
2. Saturday Night Live on Global Saturday at 11:29 p.m.: 1.53 million viewers
3. CTV Evening News: Weekend on CTV Saturday at 6 p.m.: 1.37 million viewers
4. Departure on Global Tuesday at 10 p.m.: 1.28 million viewers
5.  Big Brother on Global Wednesday at 8 p.m.: 1.25 million viewers
Quebec (Francophone) 
1. Tout la vie on SRC Tuesday at 8 p.m.: 1.2 million viewers
2. Discussions avec mes parents on SRC Monday at 7:30 p.m.: 1.18 million viewers
3. 5é rang on SRC Tuesday at 9 p.m.: 1.13 million viewers
4T. Tout le monde en parle on SRC Sunday at 8 p.m.: 1.13 million viewers
4T. En direct de l'univers on SRC Saturday at 7 p.m.: 1.13 million viewers
Montreal (Anglophone)
1. CTV Evening News: Weekend on CTV Saturday at 6:00 p.m.: 70,000 viewers
2. Saturday Night Live on Global Saturday at 11:29 p.m.: 59,000 viewers
3. The Conners on CTV Wednesday at 7:30 p.m.: 50,000 viewers
4. Departure on Global Thursday at 10 p.m.: 42,000 viewers
5. The Weakest Link on CTV Tuesday at 8 p.m.: 40,000 viewers

Toronto/Hamilton
1. Saturday Night Live on Global Saturday at 11:29 p.m.: 432,000 viewers
2. The Amazing Race on CTV Wednesday at 9 p.m.: 336,000 viewers
3. Dancing With the Stars on Citytv Monday at 8 p.m.: 271,000 viewers
4. Big Brother on Global Wednesday at 8 p.m.: 264,000 viewers
5. Who Wants to be a Millionaire? on CTV Sunday at 9 p.m.: 262,000 viewers

Edmonton
1. Star Trek: Discovery on CTV Thursday at 9 p.m.: 85,000 viewers
2. Saturday Night Live on Global Saturday at 9:29 p.m.: 78,000 viewers
3. Departure on Global Thursday at 8 p.m.: 63,000 viewers
4. Border Security on Global Saturday at 7 p.m.: 59,000 viewers
5. Highway Thru Hell on Discovery Monday at 10 p.m.: 58,000 viewers
Calgary
1. Saturday Night Live on Global Saturday at 9:29 p.m.: 92,000 viewers
2. The Amazing Race on CTV Wednesday at 10 p.m.: 65,000 viewers
3. Departure on Global Thursday at 8 p.m.: 62,000 viewers
4. Star Trek: Discovery on CTV Sci-Fi Thursday at 9 p.m.: 55,000 viewers
5. Big Brother on Global Monday at 9 p.m.: 52,000 viewers
Vancouver/Victoria
1. 60 Minutes on Global Sunday at 7 p.m.: 190,000 viewers
2. The Amazing Race on CTV Wednesday at 9 p.m.: 151,000 viewers
3. Departure on Global Thursday at 10 p.m.: 133,000 viewers
4. NFL Sunday Primetime on CTV 2 Sunday at 5:20 p.m.: 132,000 viewers
5. Saturday Night Live on Global Saturday at 8:29 p.m.: 128,000 viewers