The summertime screen slump didn't last: study
Due to the second wave, cooler weather and even some difference with reporting – Canadians are upping their content consumption again.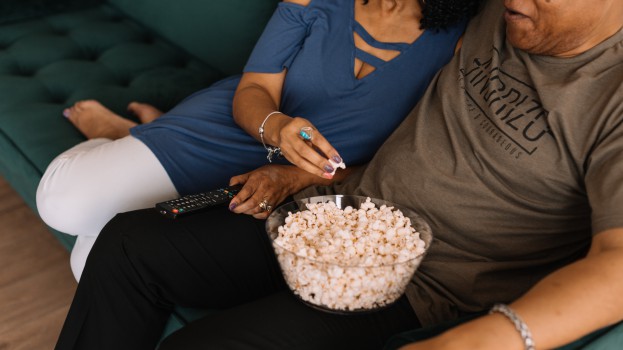 When Mindshare Canada conducted COVID-19 research related to Canadians' mindsets, pop culture tastes and media consumption in the summer, things looked quite different. The period saw a number of businesses gradually reopen and the second wave was still just a "maybe" in many people's minds.
The GroupM agency also found, at the time, that the screentime surge, which resulted from initial lockdowns, had ended. Canadians were suddenly watching less TV and spending less time on social in favour of outside time and social distance-friendly activities.
Things have changed.
In Mindshare's recent October wave of research, it found that Canadians are still glomming into content, social media usage is going back up and that there might be discrepancies between how much Canadians think they're watching and how much they're actually watching.
Mindshare looked at the correlation between COVID cases and hours tuned into television to determine whether habits have changed as COVID goes through waves. Mindshare's research found a relatively typical seasonality; summertime views fell somewhat, in part due to a lack of programming but also partly because summertime views always fall.
And, the research shows that September's views are relatively comparable to those of the same period in 2019. A so-called decline of TV in the fall might not be as accurate; despite limited programming and production challenges, hours tuned are similar.
However, while Canadians are more likely to report certain consumption levels, it might not always be accurate. Mindshare reports that respondents tend to view content consumption more ambiguously, which might be influencing how they self-report time spent with things like TV and mobile phones. Mindshare noted that respondents tend to pay more attention to what they're watching, like the NBA Finals or an episode of The Masked Singer, than how they're watching it.
Thus, Mindshare asked respondents to examine the time they were spending with any content/screen touchpoints. When asked how many were spending more time consuming media via screens than they were before the pandemic, 40% of respondents answered in the affirmative. This figure had been higher earlier in the year (50% in May) but had dipped into the 30 to 35% range in the summer, indicating that as weather gets cooler, people are getting back into their screens. For TV specifically, 28% say they're watching more TV than before, up from 25% in August.
Another figure that went down in the summertime was social media usage, which is now creeping back up after dipping to a low 27% in July. It's now up to 33%. The summertime screentime lull corresponded with an increase in time spent outside. Almost all social platforms, including sleeping giant TikTok, went down in June, although Twitter has been the most consistent in terms of minutes spent – it didn't see as much reduction in the summer.
Mindshare also noted that some of respondents day-to-day activities could be influencing their media consumption. For example, people reporting that they've been baking remains high – about 20% higher than pre-COVID, and it didn't really dip down after its springtime uptick. This could shape the type of content respondents consume, from online how-to guides to old episodes of The Great British Baking Show and its Canadian counterpart.
One other trend – arguably more serious than sourdough – is that of worsening mental health, particularly among younger Canadians. In the latest wave of research, Mindshare found that 30% of Canadians are using mindfulness apps, like Headspace and Calm. This coincides with an uptick in anxiety, especially among young people (the highest generation reporting anxiety is Gen Z at 44%). Many of these apps have two tiers – free, limited and ad-supported tiers, along with subscription tiers.