Raincoast Crisps pair with Ricardo for the holidays
The overall content campaign is focused on pushing sampling and conversion.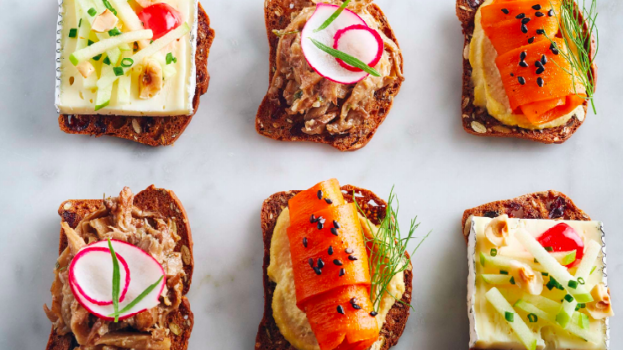 Holiday menus are all about pairings – the right wine with the right main, the right flatware with the right table accents. And one brand is hoping that it can become even more popular by being paired with a magazine that is perennially popular in French Canada.
Lesley Stowe Raincoast Crisps, a baked crisp brand that is part of Dare Foods, chose long-running French-language magazine Ricardo for a delicious holiday collaboration. The partnership is centred around pairing Raincoast Crisps with three original Ricardo canapé recipes in an artistic way aligned to the key campaign message "Our craft, your art."
The centrepiece of the campaign, Soirées Canapés, is a six-page insert featuring mouthwatering art and matching recipes created by the Ricardo chef using the artisan crisps. The insert appears in the Holiday edition of Ricardo magazine and online. The recipes and photography produced by Ricardo for this partnership will be live online indefinitely in the recipes section of the site.
The partnership was orchestrated by multiplatform representation house MediaTonik, which won the exclusive representation rights to Ricardo in early 2019.
Heidi McLeod, MediaTonik national account director, says the Lesley Stowe team approached MediaTonik to build a custom content partnership earlier this year, which would last for a full year.
"The goal of the campaign is to build awareness and trial of Raincoast Crisps within the Quebec market," says McLeod. "A key insight is that once a consumer has sampled the product the brand experiences high conversion to purchase."
Other components of the campaign include an Easter menu earlier this year and a Lesley Stowe contest in a previous edition of Ricardo. Winners get an exclusive spot in a virtual workshop with one of the Ricardo chefs, Isabelle Deschamps-Plante, where she will teach them how to make the appetizers featured in the campaign.