Cook It signs on as Zeste's first multiplatform sponsor
The meal kit service partners with Groupe TVA's foodie brand, which has been growing beyond its specialty TV origins.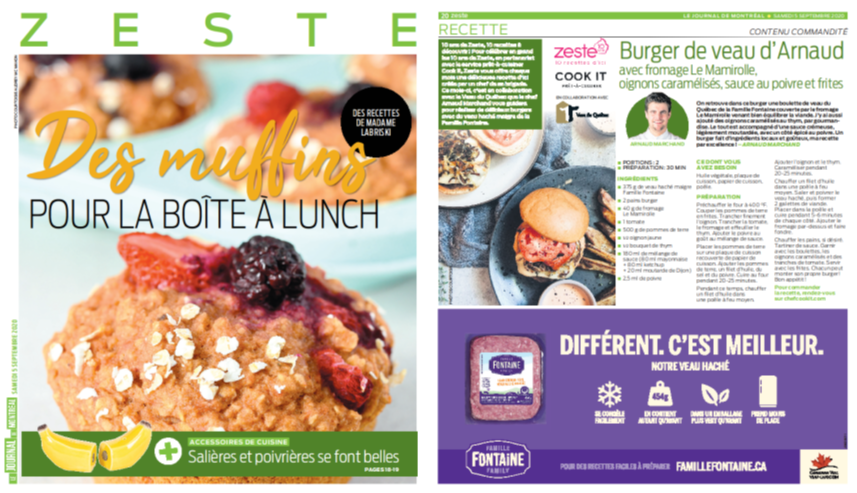 Cook It, the Montreal-based meal kit service, is partnering with Zeste for the food media brand's first campaign to take advantage of its expanded presence across TV, print and online media.
Cook It's ready-to-cook meal kits are available to subscribers in Quebec, Ontario, and the Maritime Provinces. Zeste will serve up a Cook It-branded recipe each month, presenting it across a number of its properties. At the same time, the recipe will be included on Cook It's menu of kits available to order.
Zeste currently reaches more than 81% of Quebecers. Now in its tenth year, Zeste had been solely a specialty TV channel for most of its life. Quebecor Media's Groupe TVA acquired it last year and began transforming it into a multi-platform brand.
Besides the Zeste TV channel and a regular segment on popular TVA morning show Salut, bonjour!, it's expanded into the Journal de Montréal and Journal de Québec with a Zeste section every Saturday (pictured). The brand is also increasingly active at Zeste.ca and on social media with a multitude of recipes for its thriving community of cooking enthusiasts. Its digital and social media presence draw approximately 4.7 million unique visitors per month.
Zeste has also appeared on newsstands with a special issue of Coup de pouce magazine, and appeared in bookstores with Planches, the first cookbook under its new "Zeste présente" banner in collaboration with Quebecor's Groupe Homme.
The Cook It collaboration is set to run until May 2021.