New music mag Next reaches out to youth
A new monthly from Michael Hollett aiming to find readers through free home-delivery distribution.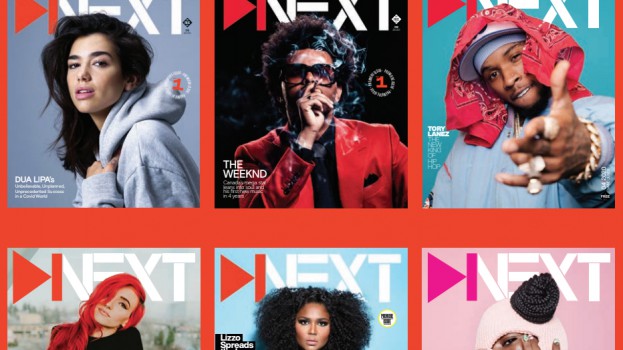 A new, free monthly music magazine called Next is set to launch next month, aiming for younger readers through an interesting distribution model.
The publication is operated by Toronto-headquartered Next Magazine Enterprises and is set to debut on Dec. 7 in Toronto, Vancouver and Calgary.
It's focused on good news stories about music, arts and fun, with sections spanning style, food, drink, gaming, cannabis, movies and TV, all with an eye to local content. Canadian indie rocker Amy Millan from Stars and Broken Social Scene serves as its advice columnist.
According to the media kit, Next will have a monthly distribution of 50,000 copies, with 20,000 copies in the Greater Toronto Area, 15,000 in Calgary and 15,000 in Vancouver.
The bulk of its distribution will be via home delivery. The magazine will be offered as an option for customers to include in their order from restaurants, grocery and alcohol delivery services. Home delivery will make up 80% of Next's distribution. The remaining 20% will be available for pickup from post-secondary schools and transit hubs (depending on lockdown regulations in each city).
"We're trying to really double down on the unique things that make print great," says Michael Hollett, editor and publisher of Next. Hollett was the co-founder of Now Magazine and is the president and managing director of the North by Northeast (NXNE) music and gaming festival. He tells MiC that print magazines have forgotten how to speak to the 18-25 audience.
"I did Now Magazine, I've done some consulting with other music magazines, and I think they're not connecting with the younger reader. And if you don't have that young reader, you can't have an authentic youth magazine," Hollett says.
Next is designed to interact with readers' phones, with all of its music articles linked in real-time to Apple Music and Spotify via QR codes. Similarly, fashion articles will link to online shopping sites, and film trailers will be accessible via reviews. "We're really making a magazine that's going to be having a conversation with your phone as you read it," Hollett says.
The first issue of Next will have 48-pages. Hollet says signed advertisers include record labels, venues, event producers, retailers and alcohol brands.
"We're getting a great response from advertisers," says Hollett, adding that 30% of advertisers are taking advantage of Next's use of QR codes. One in particular, Warner Music Group, is using them to unlock additional digital content.
Next's investors include media and music industry leaders: Slaight Communications president and CEO Gary Slaight, Cineplex Media president Salah Bachir, concert promoter and theatrical producer Michael Cohl, Triumph bassist and keyboardist Mike Levine, Billy Talent guitar player Ian D'Sa, and Peter Neal from Neal Brothers Foods, among others. Some of these partners are also advertising with Next.
Hollett says he will continue on with NXNE with the festival becoming a sort-of event production arm for Next, creating both in-person and virtual events. Additionally, Next's digital offerings for advertisers will include sponsorships, branded content, social media partnerships, video partnerships, contests and a newsletter, according to the brand's media kit.
In terms of raising awareness of Next's launch, it has a promotional partnership in place with iHeartRadio and Bell Media, which will see Next publish iHeartRadio's top 20 each month. Next will receive support on appropriate Bell youth-oriented channels and platforms, including extensive radio support in all three markets. As well, the magazine will leverage NXNE's social media presence.
Hollett expects to expand the publication into other Canadian cities, and that some of his partners, which include American alternative weeklies, are interested in bringing Next's model and concept to the U.S.