Metrolinx uses Instagram's new Reels to reach youth
Launched this summer, the short Reels videos may be a good way to reach the Tik Tok crowd.
Metrolinx, a crown corporation operating transit in southern Ontario, leveraged Instagram's new Reels product in its latest media buy to connect with millennials and Gen Z.
Launched in August, Reels are short, shareable multi-clip videos that can be set to music. They are similar in format to Tik Tok content, which has proven very popular among the target age group.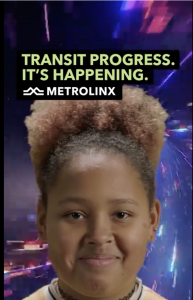 In a series of four 15-second videos – which appear both on paid Instagram Stories and organically on Instagram Reels – Metrolinx shows young people dancing and smiling over youth-relevant messages such as saving more than 20% on Go Train fares and getting WiFi on the Go buses.
Millennials and Gen Z are priority segments for Metrolinx as "they make up a high percentage of transit users," says Tahir Ahmad, SVP and head of strategy at Leo Burnett, the agency that worked on the campaign.
He says the brand and Leo Burnett chose Reels, in part, because, as of October, approximately 33.1% of global Instagram audiences were aged between 25 and 34 years old.
Ahmad adds that Reels allowed them to not only create more engaging campaign content, it also allowed Metrolinx to reach more people than using Instagram Stories alone. It also allows the brand to create and relay compelling yet digestible bits of content in an age where millennials and Gen Z are inundated with content.
Between social distancing and public gathering restrictions, Metrolinx is currently averaging approximately 10% of its normal ridership. Anne Marie Aikins, senior manager of media for Metrolinx, says the campaign is not intended to increase ridership, but instead to show transit construction and improvements are still being made during the pandemic. Lower ridership has allowed Metrolinx more leeway to make those improvements, she says.
By targeting millennials and Gen X, Aikins says the brand is investing in future ridership by promoting "a good, viable, affordable and safe" travel option for non-business commuters. Other media executions are focused on showcasing the safety and cleaning precautions the brand is taking.