Sonnet's hockey sponsorship expands to women's league
A new deal with the PWHPA spawns a new professional team and continued investment in Canada's hockey players.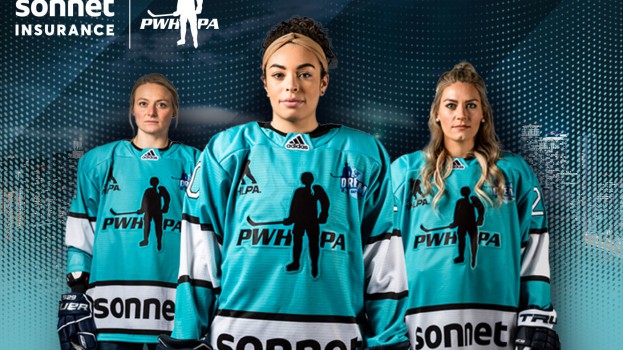 Toronto will have a new women's hockey team to cheer for thanks to a sponsorship deal between Sonnet and the Professional Women's Hockey Players Association (PWHPA). The home and automotive insurance brand has been made the association's official insurance sponsor.
Team Sonnet will debut in 2021 among other sponsored teams competing in the Secret Dream Gap Tour. The team includes 13 players from Canada's National Women's Hockey Program and six Olympians.
Sonnet is also an official partner of the National Hockey League Players Association (NHLPA) and has built ad campaigns around the sponsorship.
When asked for the business case behind the PWHPA sponsorship, Sonnet VP of marketing Brian Long says the deal is about gender equality in the work the brand has already done with hockey.
"To us, it's all about the players," Long says. "If we feel [hockey players] are important to our brand, then we want to make sure we're including all of them."
Long says social and television advertising will be developed to appear around league events (although planned in-arena activations may be limited by COVID-19 restrictions). He wouldn't comment on whether the PWHPA deal represented an expanded sponsorship budget for Sonnet, but says the brand would have pursued the parntership regardless of whether budgets grew or not.
"We want to help [the PWHPA] build a sustainable league," he says. "From a business strategy perspective, this is long term. We want to do more with them to grow this and our stake in [the league] as well."
The Dream Gap Tour was created by the PWHPA in 2019 and features more than 125 players. Brand sponsorships play a large and visible part in financing the league. Procter & Gamble's Secret deodorant brand recently committed $1 million to support the 2021 season. Other category sponsors include the NHLPA, Budweiser, Dunkin' and Adidas.