District M adds creative tool to its programmatic platform
Creative Builder builds display ads within the FLO system but isn't intended to cut creatives out of the process entirely.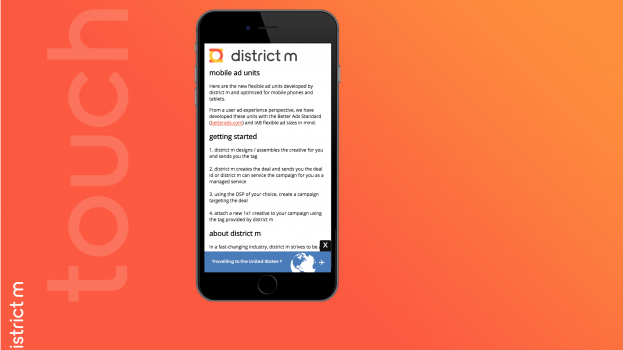 District M has added an ad creation tool to its FLO media buying platform.
Creative Builder creates dynamic display ads and aims to "solve the burden" of assembling creatives, District M notes in a release. The tool takes only two to three minutes to assemble an ad (with "no prior expertise or training" according to the company) and allows users to change their new ads after a campaign launches.
Jean-Martin Provencher, product owner at District M, says FLO is used "by a wide spectrum of clients" — media agencies, brands executing programmatic campaigns in-house or those using the platform with the support of District M's traders. He says publishers also use FLO to run campaigns on their own inventory and websites.
Provencher says although District M mostly works with "large brands and media agencies," he thinks all types of advertisers can benefit from Creative Builder.
"A smaller brand can appreciate how it allows them to easily build rich display banners without requiring the services of an in-house developer or expert knowledge. On the other hand, the larger brand will want to measure the overall engagement they are achieving while running a broad national campaign," he says.
Provencher says brands partnered with creative agencies (that might typically handle ad creative) are "more than welcome" to use Creative Builder, as the intention is not to cut these players out of the equation. District M considers designers as "key users" of the Creative Builder, Provencher says, especially since the tool can integrate existing creative assets and, potentially, make them more compelling.
"We facilitate the integration part through the platform, they bring in the creativity," he says. " Designers and marketers are the ones that come up with the best ideas to maximize the potential of our different formats."