Edit Media and Bell Fibe TV look east with Atlantic Edition
The show highlights the work of Atlantic Canadian entrepreneurs and creatives, landing tourism organizations as first-season sponsors.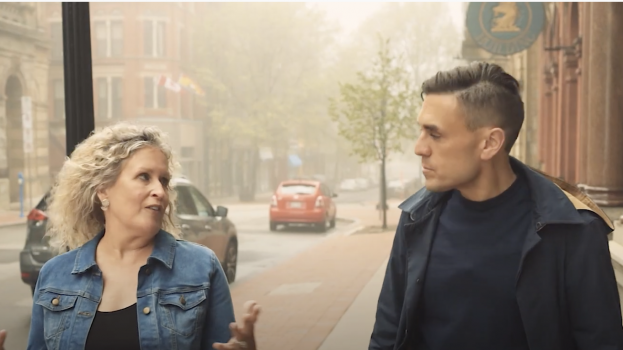 Edit Media is collaborating with Bell Fibe TV on a new national television show aimed at highlighting the work of Atlantic Canadian entrepreneurs and creatives with sponsors in tow.
Atlantic Edition – a show profiling Canadian business leaders, artists, musicians, architects and chefs – airs nationally exclusively on Bell Fibe TV1. Host James Mullinger focuses on what drives and inspires his subjects, as well as what they love about Atlantic Canada and how that has impacted their work.
Travel organizations have already signed on. Three of the show's episodes are sponsored by Discover Saint John, while another is sponsored by Tourism PEI.
Mullinger tells MiC that the audience for the show is similar to that of his quarterly lifestyle magazine, Edit. The mag's readership is 52% male, 48% female, with 83% being university-educated or higher. Approximately 60% have an annual income $100,000 or more. But Mullinger simply sums up the show's audience as "anyone with an interest in Atlantic Canada, or in entrepreneurs and creatives doing globally renowned work out of a small place."
Part of Mullinger's goal with Atlantic Edition is to put a spotlight on entrepreneurs and creatives doing world-class work from a region that often gets "ignored." And although it's an economically tumultuous time due to the pandemic, the primary goal was not to generate work for these entrepreneurs and artists that are already pretty well known (i.e. musician Joel Plaskett, actress Mary Walsh, Chef Michael Smith). Instead, he'd rather get to know the personal side of these people.
Mullinger, a comedian and journalist, says he has worked with Bell Fibe TV1 on several of his comedy projects since he moved from the U.K. to Canada in 2014. That familiarity and that the media company shares "our vision for showcasing the very best of the east coast of Canada with the rest of the country" is why Mullinger chose to collaborate with Bell Fibe TV1.
This is the first show to be shot in Atlantic Canada and aired nationally to all nine million Fibe subscribers, according to a release.