CTV roars into December with strong ratings: Numeris
The Good Doctor, Grey's Anatomy and The Masked Singer continue their hot streaks.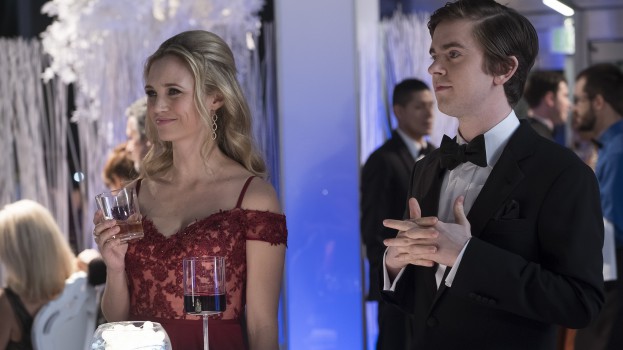 CTV came into December owning the top-five list of primetime English-language programming, according to the latest data from Numeris for the week of Nov. 30 to Dec. 6.
The network was led by The Good Doctor (pictured) on Monday night, which has been an audience favourite in recent weeks.
French-language television for that week was led by Discussions avec mes parents with 1.34 million viewers. Tout la vie, which led the week prior, dropped to fourth place and Une autre histoire popped into the top five with 1.08 million viewers on Monday night.
CTV had strong showings in most local markets, with Blue Bloods popping into the rankings for Montreal, Calgary and Toronto/Hamilton. Global's Saturday Night Live and Private Eyes were the only English shows to disrupt CTV's hold on regional top fives.
Canada (Anglophone)
1. The Good Doctor on CTV Monday at 10 p.m.: 2.28 million viewers
2. Grey's Anatomy on CTV Thursday at 9 p.m.: 2.12 million viewers
3. The Masked Singer on CTV Wednesday at 8 p.m.: 1.96 million viewers
4. Blue Bloods on CTV Friday at 10 p.m.: 1.85 million viewers
5. Young Sheldon on CTV Thursday at 8 p.m.: 1.82 million viewers
Quebec (Francophone)
1. Discussions avec mes parents on SRC Monday at 7:30 p.m.: 1.34 million viewers
2. Tout le monde en parle (en direct) on SRC Sunday at 8 p.m.: 1.21 million viewers
3. 5e rang on SRC Tuesday at 9 p.m.: 1.15 million viewers
4. Toute la vie on SRC Tuesday at 8 p.m.: 1.11 million viewers
5. Une autre histoire on SRC Monday at 8 p.m.: 1.08 million viewers
Montreal (Anglophone)
1. Grey's Anatomy on CTV Thursday at 9 p.m.: 92,000 viewers
2. Blue Bloods on CTV Friday at 10 p.m.: 83,000 viewers
3. Big Sky on CTV Tuesday at 10:00 p.m.: 61,000 viewers
4. Magnum PI on CTV Friday at 9 p.m.: 60,000 viewers
5. The Good Doctor on CTV Monday at 10 p.m.: 58,000 viewers
Toronto/Hamilton
1. The Good Doctor on CTV Monday at 10 p.m.: 518,000 viewers
2. The Masked Singer on CTV Wednesday at 8 p.m.: 451,000 viewers
3. The Original Santa Claus Parade on CTV Saturday at 7 p.m.: 446,000 viewers
4. Saturday Night Live on Global Saturday at 11:29 p.m.: 431,000 viewers
5. Blue Bloods on CTV Friday at 10 p.m.: 406,000 viewers
Edmonton
1. Blue Bloods on CTV Friday at 8 p.m.: 89,000 viewers
2. The Amazing Race on CTV Wednesday at 7 p.m.: 81,000 viewers
3. Star Trek Discovery on CTV Thursday at 9 p.m.: 81,000 viewers
4. The Masked Singer on CTV Wednesday at 9 p.m.: 80,000 viewers
5. The Good Doctor on CTV Monday at 8 p.m.: 79,000 viewers
Calgary
1. The Good Doctor on CTV Monday at 8 p.m.: 119,000 viewers
2. Grey's Anatomy on CTV Thursday at 10 p.m.: 104,000 viewers
3. Blue Bloods on CTV Friday at 8 p.m.:98,000 viewers
4. Private Eyes on Global Monday at 9 p.m.: 98,000 viewers
5. The Masked Singer on CTV Wednesday at 9 p.m.: 98,000 viewers
Vancouver/Victoria
1. The Masked Singer on CTV Wednesday at 8 p.m.: 216,000 viewers
2. Saturday Night Live on Global Saturday at 8:29 p.m. 176,000 viewers
3. Magnum PI on CTV Friday at 9 p.m.: 151,000 viewers
4. The Good Doctor on CTV Monday at 10 p.m.: 150,000 viewers
5. Young Sheldon on CTV Thursday at 8 p.m.: 148,000 viewers