Tim Hortons launches the first Canadian Landmarker
The Snapchat lenses will bring the Princes' Gates to life this holiday season as the QSR looks to leverage the reach of the app's feature.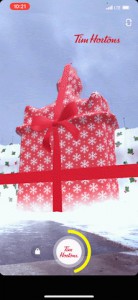 Tim Hortons is looking to leverage Snapchat's breadth and reach for the holidays, launching the first ever Canadian Landmarker.
Rolled out last year, Snapchat's Landmarkers are a set of lenses that animate landmarks in augmented reality (AR). At the 12th annual Shorty Awards this past May, HBO won for best mobile campaign for its Game of Thrones landmarkers that had an ice dragon landing on prominent structures like Manhattan's Flatiron Building. The Landmarker lenses reached 23.55 million fans in 11 global markets.
Tim Hortons is hoping to reach a lot of consumers itself through its lens built for The Princes' Gate outside of Toronto's Exhibition Place. When Snapchatters scan the gates, they will appear in AR adorned in wrapping paper that is torn away to reveal the frozen gates as well as a Tim Hortons' snowman waving at the user.
The brand is also putting Snapcodes on donut and Timbit boxes across the country for the holidays, increasing its reach so that any customer can access the Snapchat experience.
Tim Hortons was Snapchat's global launch partner for the roll out of 3D body tracking technology this past Halloween, which enabled users, through the lenses, to track 18 joints in the human body and apply 3D models to follow people's movements.
Snapchat says this Princes' Gates development marks a continuation of its "cutting edge" AR work with Tim Hortons.
"Landmarker tech enables brands and everyday creators to build AR and overlay it on an incredible creative canvas, in this case The Princes' Gates at Exhibition Place in Toronto. Tim Hortons is taking full advantage of the scale and unique features of the Gates," Matthew Shore, Canadian creative strategy lead at Snap Inc., says in a release.
Snapchat reaches more than nine million users in Canada. According to the company, an average of more than four billion snaps are sent every day globally and more than 180 million Snapchatters engage with AR every day.