Oak Island scores big over Christmas weekend: Numeris
Canadians at home over the holiday week turned to History's treasure hunters and a handful of CTV broadcasts.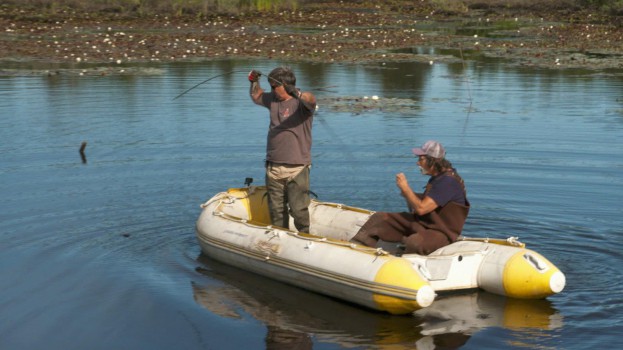 The Curse of Oak Island had some holiday good luck, topping the television ratings from Numeris for the week of Dec. 21-27
History's unscripted series about treasure hunters on the eponymous island off Nova Scotia came in with just under one million viewers on the day after Boxing Day, and was at or near the top in every major English market outside of Toronto and Hamilton.
Another specialty channel that did well during the holiday week (when audiences were largely at home but didn't have much new programming to attract them) was CTV Sci-Fi. Star Trek: Discovery's episode on Christmas Eve was rated third nationally, and was also in the top five in numerous major English markets.
Even though its medical dramas are off and The Masked Singer has wrapped up its season, CTV still managed to continue the strong ratings it has enjoyed for several months, with its weekend news program and NFL broadcasts rounding out the top five.
In Quebec, French-language ratings were topped largely by special holiday programming. In other regions, the Raptors' season opener against the New Orleans Pelicans was the top program of the week in Toronto.
Not included in the below rankings of single-night programming are the preliminary rounds of the World Junior Hockey Championships. Between the two broadcasts on Dec. 26 and 27, the first games featuring Canada pulled in a combined 1.96 million viewers.
Canada (Anglophone)
1. The Curse of Oak Island on History Sunday at 10 p.m.: 993,000 viewers
2. CTV Evening News Weekend on CTV Saturday at 6 p.m.: 901,000 viewers
3. NFL (early games) on CTV Sunday at 1 p.m.: 824,000 viewers
4. Star Trek: Discovery on CTV Sci-Fi Thursday at 9 p.m.: 737,000 viewers
5. NFL (late games) on CTV Sunday at 4:23 p.m.: 733,000 viewers
Quebec (Francophone)
1. La petite vie on SRC Sunday at 6:30 p.m.: 667,000 viewers
2. La poule aux oeufs d'or on TVA Thursday at 6:59 p.m.: 576,000 viewers
3. Ensemble, pour Noël! on TVA Tuesday at 9 p.m.: 575,000 viewers
4. Cinéma des Fêtes on TVA Sunday at 6:30 p.m.: 540,000 viewers
5. Refuge Animal on TVA Monday at 6:59 p.m.: 506,000 viewers
Montreal (Anglophone)
1. Coronation Street on CBC Friday at 7:30 p.m.: 34,000 viewers
2. NFL Monday Football on TSN Monday at 8:14 p.m.: 32,000 viewers
3. The Masked Dancer on CTV Sunday at 8 p.m.: 28,000 viewers
4. Star Trek: Discovery on CTV Sci-Fi Thursday at 9 p.m.: 27,000 viewers
5. Next on Global Monday at 8 p.m.: 27,000 viewers
Toronto/Hamilton
1. NBA: Toronto Raptors vs. New Orleans Pelicans on TSN Wednesday at 7:30 p.m.: 352,000 viewers
2. CTV Evening News Weekend on CTV Saturday at 6 p.m.: 215,000 viewers
3. W Saturday Night Movie on W Network Saturday at 9 p.m.: 193,000 viewers
4. NFL (early games) on CTV Sunday at 1 p.m.: 184,000 viewers
5. Jeopardy on Yes TV Saturday at 7:30 p.m.: 180,000 viewers
Calgary
1. Star Trek: Discovery on CTV Sci-Fi Thursday at 9 p.m.: 69,000 viewers
2. CTV Evening News Weekend on CTV Sunday at 6 p.m.: 65,000 viewers
3. Celebrity I.O.U. on HGTV Monday at 10 p.m.: 50,000 viewers
4. The Curse of Oak Island on History Sunday at 10 p.m.: 47,000 viewers
5. The Masked Dancer on CTV Sunday at 9 p.m.: 47,000 viewers
Edmonton
1. The Curse of Oak Island on History Sunday at 10 p.m.: 69,000 viewers
2. CTV Evening News Weekend on CTV Sunday at 6 p.m.: 59,000 viewers
3. Star Trek: Discovery on CTV Thursday at 9 p.m.: 56,000 viewers
4. Highway Thru Hell on Discovery Monday at 10 p.m.: 48,000 viewers
5. Next on Global Tuesday at 9 p.m.: 48,000 viewers
Vancouver/Victoria
1. Global News Hour on Global Friday at 5:59 p.m.: 280,000 viewers
2. 60 Minutes on Global Sunday at 7 p.m.: 122,000 viewers
3. NFL (late games) on CTV Sunday at 1:23 p.m.: 109,000 viewers
4. In Conversation with the Prime Minister on Global Friday at 6:30 p.m.: 103,000 viewers
5. The Curse of Oak Island on History Sunday at 10 p.m.: 102,000 viewers