How to reach Canada's eight million college football fans
With a surprisingly large audience, buyers should aim for frequency, look outside the game and think about virtual placements.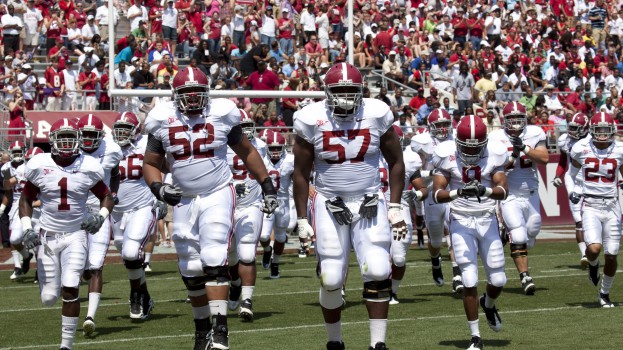 While there aren't as many students and alumni here, U.S. college football still has a surprising Canadian following of nearly eight million people, with research firm Vividata predicting "a substantial" Canadian audience tuning in to the championship game Monday night.
Like most sporting events with that big of an audience, the game is a significant occasion for brands and marketers from a media buying perspective.
Of Canadian adults recently surveyed by Vivintel, 85% of respondents said they get their NCAA football information from TV channels and shows, while 57% get it from the websites of those shows and channels. TSN will be broadcasting the championship game.
With pent up demand for fresh content and less distractions because of the pandemic, Jeremy Johnston, director of investments at PHD Media Canada, thinks the championship game will have "a strong showing" in terms of viewership.
Johnston draws the comparison to the recent World Junior Ice Hockey Championship – which had overall tournament audiences up 71% through the semifinals, compared to 2020 – and the Toronto Raptors' media performance so far this season, which he says is roughly 28% to 30% over the team's original TV-viewing estimate, despite a 2-7 record.
If he were working at a brand looking to buy during college football, Johnston says his approach to media buying would be aiming to maximize frequency and reach, from 15 and 30-second spots every quarter, in-game or lineup sponsorships and even finding ways to get Canadian product placements in despite the broadcast coming from the U.S., like during pre-game coverage.
"Typically, if you get one message in per quarter – or even per half if you have a smaller budget – you just kind of remind the viewer of the brand. Sometimes, you can build a story, depending on how creative you are," he says. Johnston notes taking this multi-pronged approach troubleshoots at-home viewer disruption and distractions that can happen over the course of a long sporting event, like children, family and pets. "It just reassures that your message is kind of being reinforced and schemed a few times to remind people the impact of the creative and the objectives you're trying to achieve."
College football officials have said Monday night's game will be limited to 20% capacity at Hard Rock Stadium in Miami – roughly 13,000 spectators are projected to be in the stands. But taking a cue from other leagues, Johnston thinks brands could insert logos on the covered seats – and Canadian networks could let their local advertisers digitally substitute their logos over top of the U.S. brands.
From a broadcast media buying and planning perspective, Jim Kozak, VP and head of sports and entertainment at Mediacom, says an event the size of a championship football game would be looking for placement of ads in between quarters. He adds that inserting a brand's product into into the broader coverage (such as pre-game and half-time programming), it should have some "organic viability" that won't be viewed as intrusive or out of place.
When examining ways in which brands can approach college football differently than other sports, Johnston suggests they "embrace the tribalism" of it –  leveraging the pride each school brings and the competition that's created in supporting your team.
"NCAA fans are younger – so the social channels, along with fan interaction elements of fantasy games, or pools and bracket games to bring out the pride they have for their team [would be effective]," Johnston adds. He says platforms like Twitter, Instagram, Snapchat and Twitch can bring these opportunities to life with great exposure on the broadcast, reaching an even bigger audience.
Beyond the championship game, Johnston says there'll be other media-buying opportunities for brands looking to enter the college football space. "I believe that greater fan access through camera angles, behind the scenes [of the] league, on [the league's] social and digital channels will be provided and broadcasters [will] introduce new features or segments to brand to further embed their brand and message," he says. Johnston notes, due to less spectators in a stadium going forward, companies have opportunities to, for instance, digitally implement their logo and message in the tunnels the teams come out of.