How Canadian Tire is keeping its NHL presence felt
The retailer has found silver linings in changes to this season, be it in new broadcast angles or finding new games to sponsor.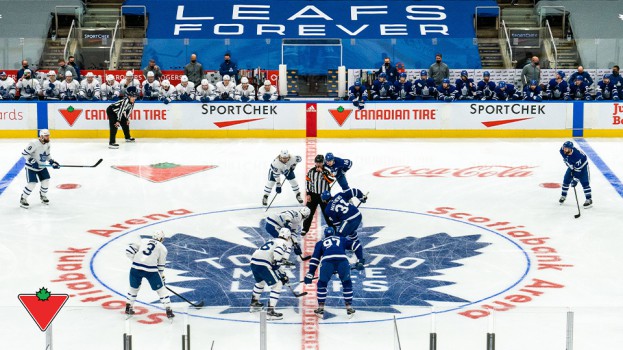 The fact that the NHL season is going to be much different this year hasn't stopped Canadian Tire from gearing up with a series of partnerships and sponsorships with the league, in order to continue to reach its key target of young active families.
Among these marketing media initiatives are the retail brand's presenting partnership of this year's Toronto Maple Leafs' Blue vs. White exhibition game, which took place this past Saturday night on Sportsnet and TSN. With no pre-season games this year, what is typically a low-interest matchup became many fans' first chance to see the team in action before the regular games begin.
Kim Saunders, Canadian Tire's VP of community and partnerships, adds that it was an exclusive opportunity that wouldn't be possible in a regular season. It also enabled the brand to showcase its full family of companies – Canadian Tire, Sport Chek and Mark's, as well as the Triangle Rewards loyalty program and Jumpstart charities – by having ownership of the camera-visible rink boards.
That exemplifies the perspective Canadian Tire is taking to a season where many other brands are trying to find ways to make their sponsorships still pay off with fewer games. For example, the pandemic and absence of fans is allows brands to have their logos and messages seen on broadcast from camera angles and vantage points that weren't available pre-COVID. That fits well with Canadian Tire's strategy for hockey, which has, Saunders says, focused on securing assets that will give the brand the best in-game presence, namely camera-visible signage on rink boards or in-ice logos.
For the better part of a decade, Canadian Tire's NHL partnership has been a key part of its bigger activities around hockey, which also includes work with Hockey Canada and naming rights to the arena where the Ottawa Senators play. The brand has also partnered with the Professional Women's Hockey Association for this year's "Secret Dream Gap Tour," a showcase of the top female players across North America, to draw attention to the lack of opportunity and support for professional female hockey players and advocate for a sustainable women's league.
"We know that hockey delivers substantial audiences from coast-to-coast, presenting us with meaningful ways to connect with our customers," Saunders says. "Our consumer research shows hockey partnerships drive consideration and increased purchase intent, allowing us to remind Canadians that Canadian Tire is there for them, whether they are hitting the ice, playing in their driveway or cheering on their favourite team from their living room."
Saunders adds while Canadian Tire looks to create media plans that integrate across all potential mediums, it has always built in adaptability, such as skewing more towards social media content if it wants to connect with a younger audience. But she says since traditional TV still plays a key role in how many fans consume sports content – a consumption habit that remains strong through the pandemic – Canadian Tire continues to purchase advertising on that platform.
Overall, Canadian Tire's NHL strategy ladders up to one of its goals of reaching young active families, a crucial target audience for the brand as "they look to shop [across] multiple categories in our store and across our family of business," Saunders says. These families are likely to have their children enrolled in hockey, due to its popularity in Canada.
"We know that this group is often NHL fans, so supporting the Blue vs. White game enables us to connect with our audience in an engaging and relevant way that reinforces we understand what matters to Canadians," Saunders says.
Photo courtesy NHL