TheScore's losses offset new business highs in Q1
Record revenue from ads and gambling weren't enough to make up for the costs of expansion and unsettled bets.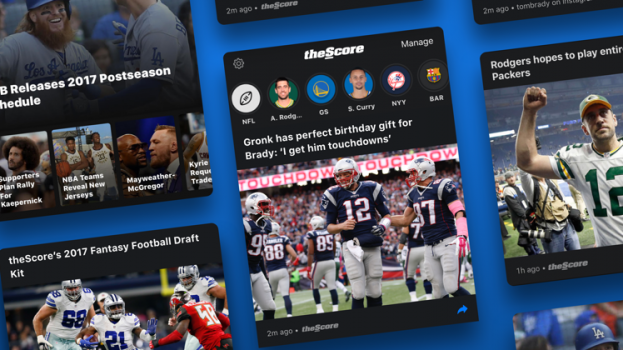 TheScore has much to be optimistic about in its Q1 fiscal results, but the costs associated with recent growth has reached new highs as well.
For the quarter ending Nov. 30, the digital sports media platform reached several positive milestones. Media revenue was $10.6 million, a new high for the company, which it says was driven by growth in direct ad sales in both the U.S. and Canada. Its esports content had its third consecutive record-breaking quarter for video views, reaching 357 million in Q1, representing year-over-year growth of 355%.
For theScore Bet digital sports gambling offering, its gaming handle – the term used to describe the total amount of money bet – was up 535% year-over-year in Q1, reaching $55.8 million. That was helped by bringing the service to Colorado and Indiana in the fall, with a launch in Iowa planned in the coming weeks. The company also unveiled Bet Section, a dedicated area in theScore's app, which hosts a suite of personalized gambling features for users in regions where this kind of sports betting offering is legalized.
However, those new records were not enough to offset the impact of costs theScore incurred in the quarter. When taking promotional costs and fair value adjustments on unsettled bets into account, gaming revenue was a net loss of $2 million. All told, EBITDA loss ended up at $9.3 million (compared to $4.8 million for the same period last year), which the company attributed to additional expenses related to the expansion of gaming operations.
John Levy, founder and CEO of theScore, said in a statement that in addition to deepening its media integrations, expanding the footprint of its betting operations is a priority going forward, and is "diligently preparing" for the opportunity to do so in Canada in anticipation of it becoming fully legalized.
In terms of other viewer metrics, theScore had 3.9 million average monthly active users and 458 million average monthly user sessions on its app in Q1, equalling 116 average monthly-sessions-per-user. Content on social channels had an average monthly reach of approximately 105 million, with a push into TikTok resulting in 573,000 additional followers.
With the release, Levy also revealed that the company – currently listed on the TSX – is considering listing on a U.S. stock exchange.
"We believe access to the U.S. capital markets would provide compelling benefits for theScore and our shareholders," he said.