SkipTheDishes becomes the NHL's official food delivery app
The brand will deepen its integration with the game through an increased presence in arenas and broadcasts.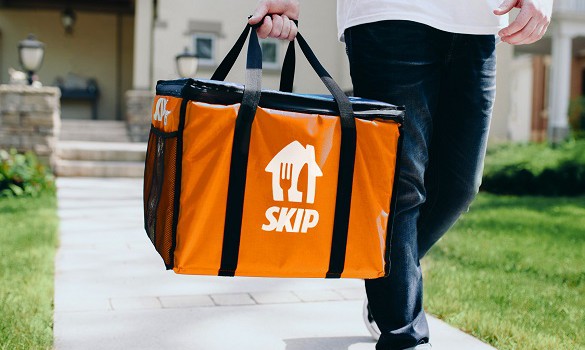 SkipTheDishes has become the NHL's official food delivery app as part of a multi-year Canadian partnership with the league.
The partnership will consist of both broadcast and digital buys, in-arena board signage and Skip will also sponsor NHL events once in-person activations can be held, either later this season or next.
Becoming the league's official food delivery app is "a completely new category that has not existed before," says Cheryl Radisa, VP of marketing at SkipTheDishes.
In terms of media investment, Skip will promote this partnership with integrated features and commercial spots on Rogers, TSN, RDS and TVA. Radisa says there will also be "a strong digital presence" in NHL-owned, Skip-owned and paid channels.
"This holistic media approach will reach millions of Canadians across the country, reinforcing Skip as the go-to choice for game-day favourites all season long," she says.
The brand hosts major QSR's like Pizza Pizza and Tim Hortons on its platform, but also local restaurants – which Skip has made a point of emphasizing as part of this partnership. Skip has previously connected on a local level with NHL fans via campaigns emphasizing delivery from their hometown arena. With the partnership, the brand can be a little bit more explicit about a connection to NHL, while also driving home its Canadian identity.
"Hockey engages more Canadians, more regularly, than any other entertainment property. And with sport viewership in Canada reaching record levels in October, sports properties remain one of the most effective platforms for connection potential, and the perfect place for Skip to connect with hockey fans to bring them the food they love," Radisa says.
The brand was also named the official sponsor of Hockey Canada in December, a multi-year partnership in which Skip became the official food delivery app of the 2021 World Juniors' tournament.
Skip also has six partnerships with Canadian NHL teams – the Vancouver Canucks, Edmonton Oilers, Calgary Flames, Winnipeg Jets, Ottawa Senators, and Montreal Canadiens. With this league sponsorship, Skip will leverage its other partnerships to create "team-specific content" and focus on game-day ordering, Radisa says.
XMC, a Toronto-based sponsorship and experiential marketing agency, brokered the partnership.