NHL's return scores top shelf with viewers: Numeris
The season opener between the Leafs and Canadiens was the most-watched broadcast in Canada, with other games taking several of the top spots regionally.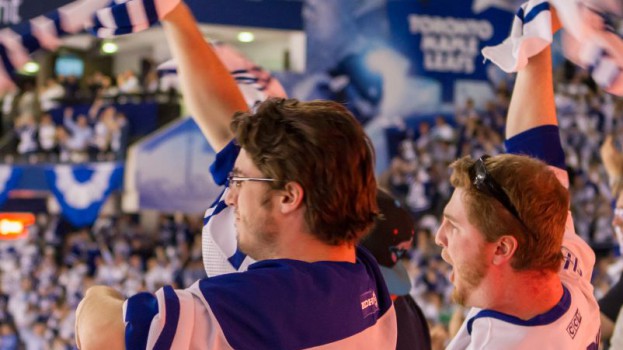 The start of the 2021 NHL season fared well for the league, with another entry in one of its most storied rivalries faring especially well for Rogers' national TV ratings.
The latest data from Numeris shows that the Toronto Maple Leafs' Jan. 13 season opener against the Montreal Canadiens garnered an average minute audience of 2.13 million viewers nationally. This comes during a pandemic era in which there's a pent-up demand for fresh, live content.
Hockey content also fared well in regional markets. The Leafs' second game of the season was the second-most watched broadcast in the Toronto and Hamilton region, with a Flames game taking the top spot in Calgary and NHL games taking up two of the top five broadcasts in Edmonton and Vancouver/Victoria.
Outside of sports, CTV police drama The Rookie was taken down one spot in national rating to number three in the most recent week in favour of fellow CTV program, The Good Doctor. The medical drama brought in an average minute audience of just over two million viewers.
In Quebec, musical show En direct de l'univers attracted 1.48 million viewers, making it the most-watched program in the province. Radio-Canada's Les Pays d'en haut had 1.222 million viewers – the second-highest average-minute audience in Quebec. TVA reality singing competition Star académie 2020 – Le camp sélection had the third-highest average-minute audience in the province, with 1.220 million viewers.
Canada (Anglophone) 
1. NHL Hockey – Leafs vs. Canadiens on Sportsnet National+ Wednesday at 7 p.m.: 2.13 million viewers
2. The Good Doctor on CTV Monday at 10 p.m.: 2.01 million viewers
3. The Rookie on CTV Sunday at 10 p.m.: 1.92 million viewers
4. This Is Us on CTV Tuesday at 9 p.m.: 1.55 million viewers
5. Magnum P.I. on CTV Friday at 9 p.m.: 1.35 million viewers
Quebec (Francophone) 
1. En direct de l'univers on SRC Saturday at 7 p.m.: 1.48 million viewers
2. Les Pays d'en haut on SRC Monday at 9 p.m.: 1.222 million viewers
3. Star académie 2020 – Le camp sélection on TVA Sunday at 7 p.m.: 1.220 million viewers
4. Toute la vie on SRC Tuesday at 8 p.m.: 1.19 million viewers
5. L'échappée on TVA Monday at 8 p.m.: 1.16 million viewers
Montreal (Anglophone) 
1. The Conners on CTV Montreal Wednesday at 9 p.m.: 72,000 viewers
2. The Rookie on CTV Montreal Sunday at 10 p.m.: 71,000 viewers
3. This Is Us on CTV Montreal Tuesday at 9 p.m.: 61,000 viewers
4. Call Me Kat on CTV Montreal Thursday at 9 p.m.: 58,000 viewers
5. The Masked Dancer on CTV Montreal Wednesday at 8 p.m.: 51,000 viewers
Toronto/Hamilton 
1. NHL Hockey – Leafs vs. Canadiens on Sportsnet Ont+ Wednesday at 7 p.m.: 633,000 viewers
2. NHL Leafs Hockey on TSN+ Friday at 7 p.m.: 536,000 viewers
3. The Good Doctor on CTV Ontario Monday at 10 p.m.: 427,000 viewers
4. This Is Us on CTV Ontario Tuesday at 9 p.m.: 386,000 viewers
5. The Rookie on CTV Ontario Sunday at 10 p.m.: 381,000 viewers
Calgary 
1. NHL Hockey: Flames on Sportsnet West+ Thursday at 6 p.m.: 194,000 viewers
2. The Rookie on CTV Calgary Sunday at 8 p.m.: 112,000 viewers
3. The Good Doctor on CTV Calgary Monday at 8 p.m.: 104,000 viewers
4. This Is Us on CTV Calgary Tuesday at 10 p.m.: 92,000 viewers
5. NCIS: Los Angeles on Global Calgary Sunday at 9 p.m.: 82,000 viewers
Edmonton 
1. NHL Hockey on Sportsnet West+ Wednesday at 8 p.m.: 169,000 viewers
2. HNIC Prime East on Sportsnet West+ Saturday at 5 p.m.: 120,000 viewers
3. The Rookie on CTV Edmonton Sunday at 8 p.m.: 109,000 viewers
4. Magnum P.I. on CTV Edmonton Friday at 10 p.m.: 83,000 viewers
5. The Curse of Oak Island on History+ Sunday at 10 p.m.: 81,000 viewers
Vancouver/Victoria 
1. NHL Hockey – CDN on Sportsnet Pac+ Wednesday at 7 p.m.: 212,000 viewers
2. Hockey: Canucks on Sportsnet Pac+ Thursday at 6 p.m.: 201,000 viewers
3. 60 Minutes on Global BC Sunday at 7 p.m.: 176,000 viewers
4. NCIS: Los Angeles on Global BC Sunday at 8 p.m.: 153,000 viewers
5. The Good Doctor on CTV Vancouver Monday at 10 p.m.: 135,000 viewers