Post Foods named official cereal of NBA in Canada
It's the NBA's largest co-branded retail promotion in the country and the league's first partnership in the cereal category in Canada.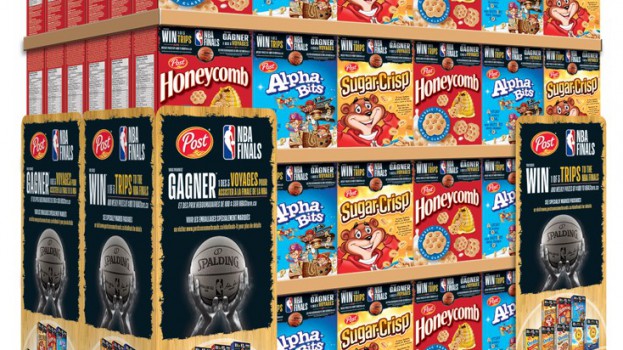 Post Foods Canada has been named the official cereal of the NBA in Canada.
Through a three-year partnership announced Feb. 1, Post Foods Canada's cereal boxes – including brands such as Shreddies, Honey Bunches of Oats and Honeycomb – will feature the NBA league logo and will be available in thousands of grocery and retail stores across the country.
According to NBA Canada, it's the largest co-branded retail promotion by the NBA in the country and the league's first partnership in this category in Canada.
With the Toronto Raptors playing home games in Tampa, Florida, and the NBA not permitting fans in-stadium due to the pandemic, NBA Canada is trying to tap into the at-home snacking occasion with this partnership.
"Whether families are gathering over breakfast or watching an NBA game, shared traditions and inspiring quality time at home are hallmarks of both brands, and we're thrilled to reach more Canadian fans together," said NBA Canada managing director Leah MacNab.
The partnership launches with a national promotion Monday at noon, with a chance to win a trip for two to an NBA Finals' game, as well as a dozen weekly prizes consisting of $100 gift cards to the league's online store.
To enter the contest, entrants may purchase a marked Post Foods' cereal box to obtain a unique pin printed on the inside of the box. Entrants can also obtain a pin without purchasing product by filling out and submitting personal information to Post Foods as well as an original essay of 100 words on why the entrant loves the company's cereals.
There will be a random draw for the three grand prizes on April 30.
"From contests, fan prizing and content we look forward to working in partnership with the NBA to bring unique and exciting experiences to our consumers and customers," said Post marketing VP David Bagozzi.
The NBA in Canada will be promoting this partnership nationally through organic and paid social media support on Twitter, Instagram and Facebook, digital advertising and a new broadcast TV commercial, which will run during nationally televised NBA games.