StackAdapt preps context-based, cookie-free targeting
The programmatic platform believes its AI product can provide effective targeting simply based on context of a webpage.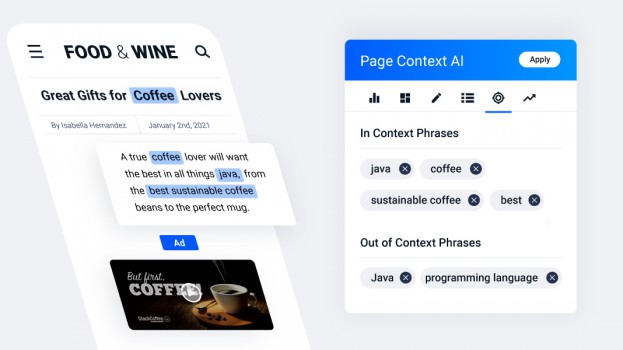 Anticipating the industry's move away from dependence on cookie-based tactics, Toronto-based programmatic ad platform StackAdapt has developed an AI tool built to target ads based on the context with the website.
The company launched Page Context AI at the end of January, technology designed to provide digital ad targeting based solely on the content, and context, of the page on which the ad in question appears.
Targeting based on keyword phrases isn't new, but StackAdapt's AI can "extrapolate relevant context, dynamically optimize it, and offer a user-facing UI to preview results," StackAdapt's COO and co-founder, Vitaly Pecherskiy, tells Media in Canada.
"It's a feedback loop that enables you to revise your input phrases in real-time to improve the success of your campaigns," he adds, something he says hasn't been done before, and is the basis for the pending patent.
Pecherskiy says this technology is more important than ever in a cookie-less landscape where privacy concerns are a priority. "It is unethical and can be restricted by law to target an audience that has specific medical conditions," Pecherskiy explains. "Page Context AI respects the user's privacy and does not leverage any of their personal data for targeting. The user sees the ad simply because they are consuming information on a related contextual topic."
Page Context AI is designed to be more granular and helps inform the path to purchase, he says, calling out ecommerce-oriented conversion opportunities. For example, a mattress brand selling online might use contextual targeting for review sites, reaching people near a key decision-making marketing. After that, retargeting can be used to bring people back and lookalike targeting can reach those who could be brought into your funnel.
Limitations and challenges exist, he admits. Niche targeting makes it difficult for the software to identify context and scale a campaign.
"Advertisers should consider a context that is broad enough for the ad to be relevant, and for the inventory to exist," he says.
Page Context AI is also limited to targeting desktop, mobile web and tablet web traffic. "It is not currently technologically feasible to get context for in-app advertisements," Percheskiy says. "This limits the devices and environments where an ad can appear."
Percheskiy says, in order to provide more accurate context, StackAdapt will also explore the possibility of incorporating other languages, like German, Mandarin, Japanese, French and Spanish, into the technology.
Though he couldn't disclose the clients, Percheskiy reports that, since launching, one client earned 400% more conversions compared to their next-best tactic. Another's CPAs were one quarter of their next best strategy, without affecting scale.
Image courtesy of StackAdapt