Police procedurals continue to lead ratings: Numeris
The Rookie dominated nationally and found its way into the top five in most markets.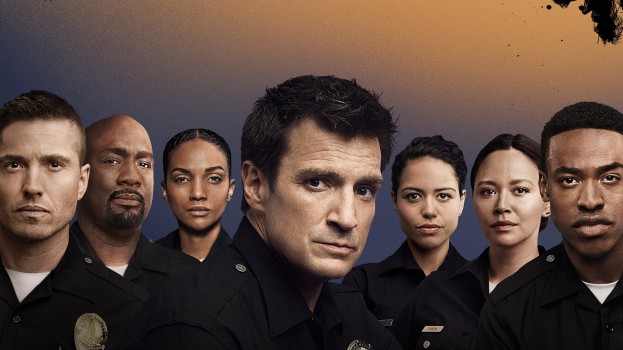 Police dramas dominated the national television audience ratings according to Numeris data for the week of Feb. 8 to Feb. 14, and were strongly represented in English-language markets across the country.
Toronto was the outlier, with two different Maple Leafs games on Sportsnet taking the two top spots in that market.
CTV's The Rookie (pictured) led the national rankings, bringing in an average minute audience of 2.05 million viewers. The series also found its way into the top ratings slots in every English-language market but Vancouver/Victoria, which favoured Magnum P.I. in the number one spot with an average audience of 146,000 viewers.
Global's The Equalizer hit the top five in every market but Quebec, giving both CTV and Global police dramas strong showings across the English-language ratings boards.
TVA took the French-language television top spots with Les beaux malaises 2.0 logging an average audience of 1.58 million viewers, and Star académie 2020 – Le variété with 1.50 million viewers.
National
The Rookie on CTV Sunday at 10 p.m.: 2.05 million viewers
9-1-1 on Global Monday at 8 p.m.: 1.84 million viewers
The Equalizer on Global Sunday at 8 p.m.: 1.84 million viewers
NCIS on Global Tuesday at 8 p.m.: 1.77 million viewers
9-1-1: Lonestar on CTV Monday at 9 p.m.: 1.75 million viewers
Quebec (Francophone)
Les beaux malaises 2.0 on TVA Wednesday at 9 p.m.: 1.58 million viewers
Star académie 2020 – Le variété on TVA Sunday at 7 p.m.: 1.50 million viewers
Les Pays d'en haut on SRC Monday at 9 p.m.: 1.37 million viewers
En direct de l'univers on SRC Saturday at 7 p.m.: 1.27 million viewers
Toute la vie on SRC Tuesday at 8 p.m.: 1.25 million viewers
Toronto/Hamilton
NHL Hockey – Leafs at Canadiens on Sportsnet Wednesday at 7:30 p.m.: 525,000 viewers
NHL Hockey – Leafs vs Canucks on Sportsnet Monday at 7 p.m.: 488,000 viewers
9-1-1 on Global Monday at 8 p.m.: 415,000 viewers
The Rookie on CTV Sunday at 10 p.m.: 407,000 viewers
The Equalizer on Global Sunday at 8 p.m.: 400,000 viewers
Montreal (Anglophone)
The Equalizer on Global Sunday at 8 p.m.: 69,000 viewers
9-1-1: Lonestar on CTV Monday at 9 p.m.: 68,000 viewers
This is Us on CTV Tuesday at 9 p.m.: 68,000 viewers
Call me Kat on CTV Thursday at 9 p.m.: 66,000 viewers
The Rookie on CTV Sunday at 10 p.m.: 66,000 viewers
Calgary
9-1-1 on Global Monday at 9 p.m.: 115,000 viewers
The Rookie on CTV Sunday at 8 p.m.: 115,000 viewers
The Equalizer on Global Sunday at 9 p.m.: 105,000 viewers
Bull on Global Monday at 8 p.m.: 92,000 viewers
FBI: Most Wanted on Global Tuesday at 8 p.m.: 83,000 viewers
Edmonton
9-1-1 on Global Monday at 9 p.m.: 114,000 viewers
The Rookie on CTV Sunday at 8 p.m.: 103,000 viewers
The Equalizer on Global Sunday at 9 p.m.: 96,000 viewers
9-1-1: Lonestar on CTV Monday at 10 p.m.: 85,000 viewers
The Curse of Oak Island on History Sunday at 10 p.m.: 80,000 viewers
Vancouver/Victoria
Magnum P.I. on CTV Friday at 9 p.m.: 146,000 viewers
HNIC Prime West on Sportsnet Saturday at 7 p.m.: 145,000 viewers
The Equalizer on Global Sunday at 8 p.m.: 139,000 viewers
NCIS on Global Tuesday at 8 p.m.: 139,000 viewers
Saturday Night Live on Global Saturday at 9 p.m.: 134,000 viewers