Twitter and So.da start a new social ecomm project
Corus' digital agency builds on a branded content partnership after finding that it helped drive lower-funnel metrics.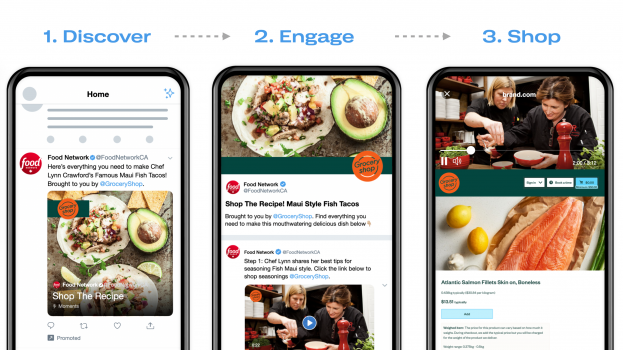 Last week, Twitter caught attention when it announced it'd be launching "Super Follow," a Patreon-style service that allows users to make some of the content they post only available to paid subscribers. Along with Twitter Spaces and its acquisition of newsletter platform Revue, its another recent effort by Twitter to focus on helping its users monetize and engage with the audiences they have built on the platform, which also serves as a means to diversify its own revenue streams beyond advertising by taking a small percentage as a fee.
But a new program shows the social network is still developing new features for brands as well.
Corus' in-house digital agency So.da and Twitter Canada have launched a new online shopping experience that aims to solve one of the trickiest part of social commerce, the checkout. According to research by eMarketer, consumers like to discover and browse new brands and products on social platforms, but almost 60% of consumers still go to the to the brand's website to finish buying, compared to 18% who purchased natively through the social platform's checkout process.
With "Twitter Shops Fueled by So.da," consumers can "watch and shop" all in the same window, bringing up the brand's website to browse further and purchase the products. The virtual pop-ups are designed to help people discover brands, learn more about products, and then drive shoppers directly to the brand's site.
This allows brands big and small to maximize brand attribution and allow them to integrate into the platform with logo placement, brand mention and custom brand tweets throughout a campaign.
An additional significant bonus with this program is is that if a client invests $100,000 in the program, Twitter delivers $100,000 in working media and the client pays $0 for production.
Dervla Kelly, SVP of marketing and So.da at Corus Entertainment, says the new partnership builds on a long-term relationship between So.da and Twitter. Almost two years ago, the companies partners on a custom content initiative with the similarly-named "Twitter Originals Fueled by So.da," which had the digital agency produce custom short form series that integrated brands such as Amex, CIBC, Kraft and Stella Artois.
By matching the content with targeted media distribution on Twitter, and then amplified across many other platforms and media, she says the series has garnered massive reach and awareness, averaging over 50 million views per series.
But the team also noticed that the series also drove lower funnel metrics for clients – like intent to purchase. She says the focus with both So.da-powered projects has been on creating engaging, data-driven content that organically drives high engagement levels with consumers, and the results show that engagement has an impact all along the path to purchase.
"Engagement is a critical factor in driving key brand metrics, as while you can pay for reach, you cannot pay for engagement," Kelly says. "We've seen first-hand how content with contextual and cultural relevance also drives far better outcomes for clients."