Canada Goose supports new NBA partnership with first foray into TV
As an outerwear partner of All-Star Weekend, the luxury brand is launching a collaborative challenge across platforms.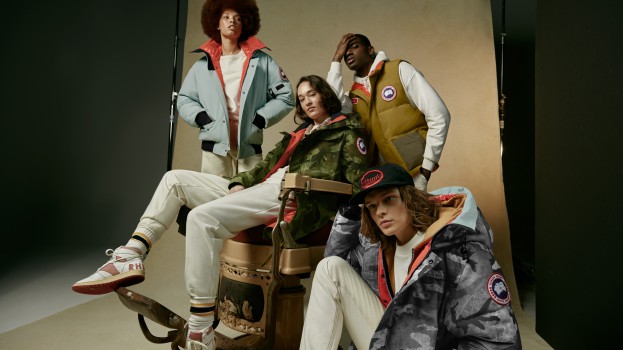 Canada Goose will run its first Canadian TV spot ever around its newly announced partnership with the NBA.
The luxury lifestyle brand announced today a multiyear partnership with the league, making Canada Goose an outerwear partner of the NBA All-Star Weekend, along with launching "Play in the Open," a new campaign supporting the partnership that challenges players and fans alike to express themselves freely, without judgement.
Over the course of the partnership, in the spirit of collaboration, every year Canada Goose will work with with different designers to develop an exclusive drop for the NBA event. The brand's inaugural design partner is Los Angeles-based Rhude.
The "Play in the Open" challenge will launch on TikTok on Mar. 4, featuring a "Tip Off Crew," including Rhude's founder, Rhuigi Villaseñor, and NBA centre James Wiseman, who will challenge followers on TikTok to join in with their best spin, dunk or dribble, and challenge three people to do the same – all in the spirit of coming together while staying apart.
The new collection goes live in select Canada Goose retail stores across the country and online at canadagoose.com starting Mar. 5. The activation will span across the U.S. and Canada, with emphasis on the former, but it is supported with a new channel strategy that includes an addition to its media strategy in Canada.
The Play In The Open challenge will be activated through various placements, including a sponsored hashtag challenge on TikTok, Instagram and Facebook, supported by Teads InRead Scroller ads, native and display ad units, YouTube ads and influencer amplification
Traditionally, Canada Goose has relied on PR, influencer and social media marketing, but for this partnership the brand has added TV to the activation mix. It will air a 60-second TV spot focused on Play In The Open on Sportsnet – the first TV spot in Canada for Canada Goose.
Canada Goose has supported the Toronto Raptors as an official partner of MLSE since 2009. Initiative has been the brand's global media agency since 2019.