Mude keeps its media plan nimble for Canadian launch
The Irish health beverage startup is focusing on dynamic digital and OOH that will help it identify and respond to local demand.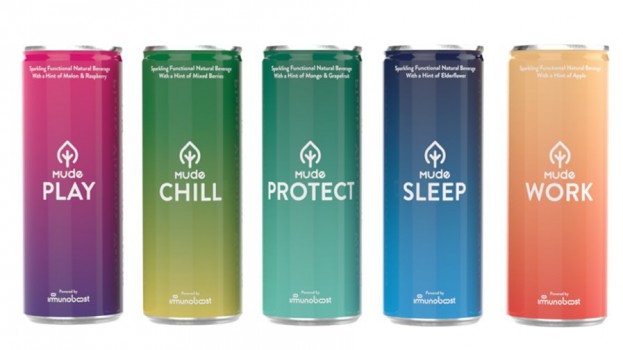 The Naked Collective, a startup based out of Ireland, announced Wednesday the Canadian launch of Mude – a line of vegan-friendly healthy drinks – which will be fully supported with a media buy meant to zero in on where the new entrant might be able to find a foothold.
Mude, made from all-natural plant-based ingredients, features five different beverages designed to address a consumers' various needs throughout the day (play, focus, sleep, etc.). All are low in calories and sugar, with 100% recyclable or compostable packaging and should be hitting retailer shelves any day.
In Ireland, the brand hit the shelves in 1,000 stores by Christmas 2020 after a September launch, and expects to be in 1,600 stores later this year with close to 80% category penetration in the country. The Naked Collective's Ireland-based founder, Niall Phelan, tells Media in Canada that it has sold more in January and February than in all of 2020 already.
A lot of that success is being driven by its digital ads – Phelan says the engagement rate in Ireland is 25 times the industry average, and click-through rates are 10 times the industry average.
He says the company will be trying to replicate that success in Canada when its media buy starts next week. And while demographic research suggests millennials and Gen Z are likely the primary target for Mude, Phelan says it takes a slightly different approach than many FMCG brands when it comes to targeting.
Based on Phelan's 25-plus years of experience in the beverage space – including time as the country manager for Molson Coors in Ireland and as founder and CEO of Rye River Brewing Company in Ireland – he says he prefers to plan and buy media in shorter windows initially, to focus on being flexible and agile to develop learnings around who it should be targeting, when and where, which could vary from city-to-city.
Phelan says that while most FMCG businesses traditionally buy their media six-to-nine months ahead, with the consumer landscape shifting so quickly right now, focusing on a shorter-term window, especially for a startup in the midst of a pandemic, allows Mude to learn from the investments it makes, and pivot when and where it needs to.
In Canada, out of the gate the company will be investing more in geographic and interest-based targeting, with buying focused on OOH and digital, handled by UM. "We lean in and buy dynamic media across digital and social channels that's targeted around five kilometres from each grocery store, and within two kilometres of each drug pharmacy and convenience store [Mude will be carried in]."
Specific stores couldn't be mentioned yet, but Phelan says the company is targeting all of the major retailers in the country.
Phelan wants to be anywhere Mude can attract the attention of people who are interested in an active outdoor lifestyle, health and wellbeing, fitness, a vegan diet and who are "plant curious."
For context, Phelan says the company's media split in Ireland is approximately 60/40 between digital and outdoor media, but he won't know what that will look like in Canada beyond the launch phase until it has had a chance to test the media waters here.
The company plans to activate the initial phase of the buy over the next eight-to-12 weeks. "As distribution and retail hit an inflection point, that's when we can expect to go national [with media]," Phelan says, adding that the plan also includes building a team of brand ambassadors to activate on the ground closer to June.
The Naked Collective's head office is in Ireland, but Toronto will serve as the organization's North American headquarters, handling all U.S. operations, and led by global CMO Dan Sorotschynski.