Arlene Dickinson acquires The Bullet and Newsworthy
The website and content agency align with recent strategic food- and health-focused shifts at the entrepreneur's other companies.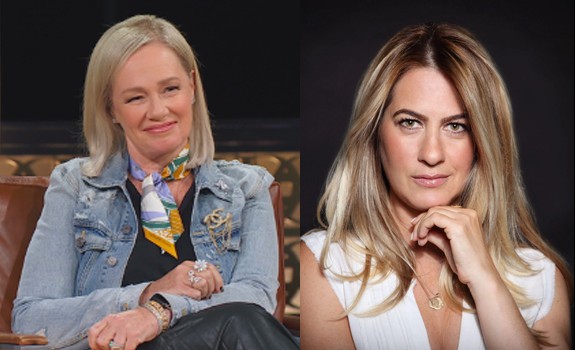 Arlene Dickinson (pictured, above left) has added a much-needed media layer to her growing network of companies focused on food, health and personal care yesterday by acquiring online publication The Bullet and Newsworthy Co, a content development agency and digital publisher.
The Bullet provides Dickinson's ecosystem (which also includes Venture Communications and its accelerator District Ventures) with what she calls a Canadian perspective and voice in the marketplace. Newsworthy, which produces The Bullet, brings the skill set she feels she needs to develop a new consumer-facing media platform for Canadians interested in living well, that will also be positioned to support product development in the food, health and personal care space. Those spaces have been the focus at District Ventures, as well as at Venture Communications as part of an ongoing strategic shift.
The skill set Dickinson refers to is The Bullet and Newsworthy founder Joanna Track and her team. "Joanna has built several media platforms," Dickinson says, "and she has the expertise and understanding of what the marketplace is looking for from a consumer perspective, and so as I build out this new media platform, she is the ideal person to lead that."
Track (pictured, above right) brings more than two decades of agency, digital publishing and entrepreneurial experience to the table. She launched Canada's first digital lifestyle magazine, sweetspot.ca, in 2004, which was later acquired by Rogers Media. As EVP, media network, Track will oversee the ecosystem's existing media properties as well as the development of the new consumer facing platform.
"We know that media – both traditional and social – have a strong impact on consumer buying behaviours. In fact, social media influences 71% of consumer buying decisions," Track says, referencing a Search Engine Watch report. "To best position all the brands and companies within Arlene's ecosystem, it's important that we equip them with the right tools to reach their customers. In many ways, that comes down to quality branded content and effective advertising."
Track points to The Bullet's existing newsletter audience (approximately 30,000 subscribers across Canada, mainly women 30-49, and predominantly in Ontario). "Now, we can introduce them to brands that we know they'll love."
"The big picture for me is creating an environment where anyone in the food, health and personal care space in Canada have support from the ideation and very early stage, which is [District Ventures] Kitchen and [District Ventures] Accelerator," Dickinson says, "through to helping them with their marketing, because consumer packaged goods are all about the brand," and ultimately helping them communicate and broadcast their brand message to market.
Dickinson says they should be evolving the platform within the next six months, but adds that it will be a place where audiences "can find information, where they can engage, and where they can actually buy," she says. "It will be a marketplace, but predominantly it will be information and content focused on Canadians and how they can live well."
"Branded content will play a critical role in the new media platform," Track confirms. "Not only will we be able to support the brands within Arlene's portfolio, we can offer a place for food and wellness brands to get their messaging out to Canadians in a unique and effective way. This will provide added insight and value to readers as well."