Spotted! Canadian Tire uses a block of ice as a spring countdown
The stunt is one of several cross-platform ways the retailer is tapping into anticipation for warmer weather.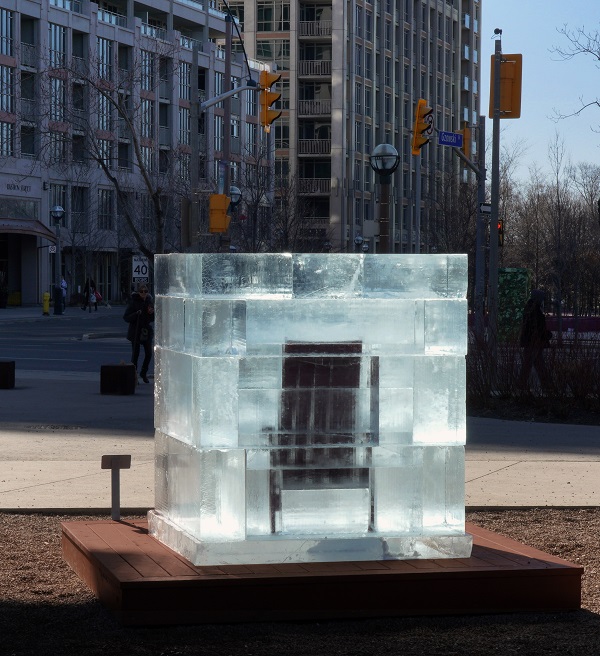 After months of lockdowns, Canadians are looking forward to spring more than usual. So, Canadian Tire has once again put something in a block of ice, but this time, it's to symbolize the changing of the seasons.
At the Bentway in Toronto, a 7,000 pound block of ice has been set up, encasing a Muskoka chair. As the weather gets warmer over the course of the next month, the ice will naturally melt and gradually reveal one of the most recognizable images of warm weather in Canada.
The stunt is being amplified with a media buy on The Weather Network's website; digital ads will feature a simulation of the ice block, and clicking on it will accelerate its melting, for those who just can't wait for the warm weather to arrive.
"Nothing could be more Canadian than a block of ice melting," says Irene Daley, associate VP of strategic marketing at Canadian Tire, who jokes that it was a challenge to find a location that could safely accommodate 7,000 lbs of melting ice and also had good foot traffic.
The ice block is just one of several ways Canadian Tire, along with agency partners Touche! and Taxi, are bringing anticipation for spring to life as part of the broader "Everything Awaits" campaign.
In Montreal, 30 bus shelters has been outfitted with digital ads mimicking the ticking clock motif from the campaign's TV spot (seen below) – every hour, the clock ticks, and another slice of "spring products" like bikes, barbecues or tents are revealed.
The retailer is also launching its first AR filter on Instagram, letting users add signs of spring like flowers and biking gear to their photos and videos. It will be promoted through the brand's owned social channels, with pitchman Gary incorporating the filter into the retailer's popular tutorial and review videos.
With files from Chris Lombardo.