Dairy Farmers of Manitoba pivots media to support restaurants
The agricultural association tries new tactics, providing free ads to support local restaurants in the province.
The Dairy Farmers of Manitoba has temporarily pivoted away from promoting dairy consumption, and shifted to giving its digital media to locally-owned small restaurants instead.
The new #LoveLocalEatLocal campaign was created and activated on behalf of the DFM by Toronto-based Humanity to provide free advertising for local restaurants affected by COVID-19, not only to increase take-out orders, but also to build relationships and community around the small business initiative.
To drive awareness around the campaign, Humanity – through The T1 Agency, Dairy Farmers of Manitoba's digital AOR – compiled a media mix including digital, social, and radio. "We focused heavily on geo-targeting our assets so that consumers are served restaurant ads near them," Nicole Stanhope, senior strategist at Humanity, tells MiC.
The campaign features ads across transit shelters, billboards, radio, social and digital platforms, as well as a contest to encourage Manitobans to show their love for local restaurants by taking-out or dining-in when and where local public health guidelines allow.
The contest component was supported by key influencers on Instagram, giving followers a chance to win a gift card to one of the participating #LoveLocalEatLocal restaurants.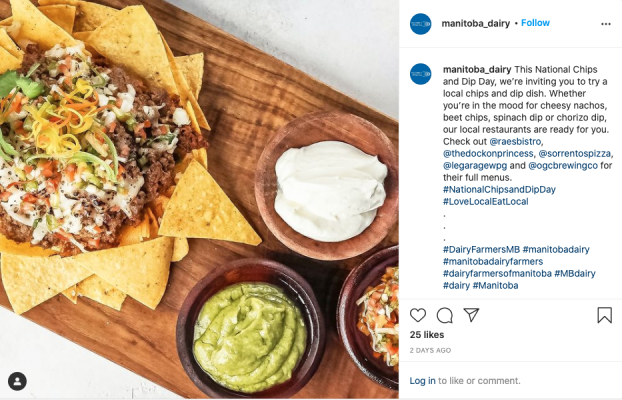 "Due to the volume of restaurant ads Dairy Farmers of Manitoba is producing free of cost," Stanhope says, "we had to be strategic in the media channels we used to ensure restaurants were getting the most exposure possible. With over 50 creative assets, we focused our media spend on getting eyes on our restaurant ads."
According to Stanhope, the DFM has always supported the local community through grassroots events and partnerships, noting that, of course, all of those opportunities aren't viable right now. "Using media in this way is new to them all together," and Stanhope says going forward Dairy Farmers of Manitoba "will continue to use any tactics" that support its messaging and support of the local community.