Behind the Buy: Canadian Tire goes big for BBQ season
The retailer is using a heavy mix of creative contextual OOH and a cross-channel national media buy to create one big countdown-to-better-weather campaign.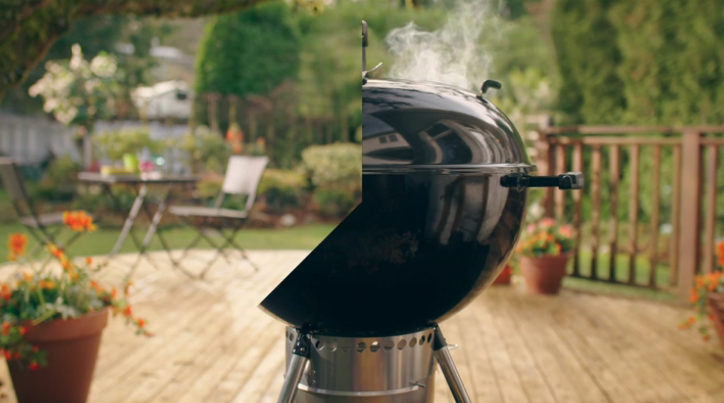 Spring is in the air. For Canadian Tire, that means the automotive category is in high gear, as is barbecue, lawn and patio prep, making the season an integral promotional period for the brand.
This year – or, rather, back in the fall of 2020 when planning kicked off – the biggest challenge was simply not knowing what was going to happen in the spring. Both on- and off-site search trends had indicated that consumers were interested in making outdoor season purchases earlier in the year. Add the ongoing pandemic and lockdowns to the mix, and the eagerness for nice weather and getting outdoors was amplified even further.
"One of the insights we landed on in January… was we felt like this would be the most anticipated countdown to spring in the history of Canada," says Irene Daley, associate VP of strategic marketing at Canadian Tire.
Hence the retailer's new "Everything Awaits" campaign, with countdown clocks, blocks of melting ice, and Instagram AR filters layering in signs of spring, making this the first time the season has been spotlighted in a really big way, Daley says. As a result, Canadian Tire is leveraging its positioning as a source for seasonal products, specifically highlighting items like trampolines, tents and barbecues.
The campaign started on March 29 and features two TV spots where those spring-themed products are gradually revealed bit-by-bit like a countdown clock in creative developed by Taxi.
From a demographic perspective, Canadian Tire and Touché!, the brand's media AOR, targeted active families for the campaign. More specifically, active Gen Y (the older level of the millennial demo) and Gen X families across the country.
"Everything Awaits" is designed to focus on two stages of the buyer journey, says Marilyne Alie, associate VP, strategy, at Touché!. There's a broader, mass awareness phase that reinforces  Canadian Tire as Canada's "spring store," with the second phase targeting the consideration stage, "where we address category-specific products that really define what spring means for Canadian Tire," she explains.
Alie says that when it comes to Canadian Tire's mass audience strategy, it will always take a holistic media approach. "Not a TV buy versus a digital buy," she says, noting the brand tries to focus on the audience, not the channel, when building out its strategy.
From a geographic perspective, Alie says spend is equal across the country – with the retailer having over 500 stores nationwide – but because of the concentration of consumers in urban centres, the team layered in location-specific activations "that allowed us to amp up the visibility in those cities," as well as generate hype that could be leveraged across social.
In Toronto, for instance, the campaign featured an ice-encased Muskoka chair. As the weather gets warmer over the course of the next month, the 7,000 pound block of ice will naturally melt and gradually reveal one of the most recognizable images of warm weather in Canada.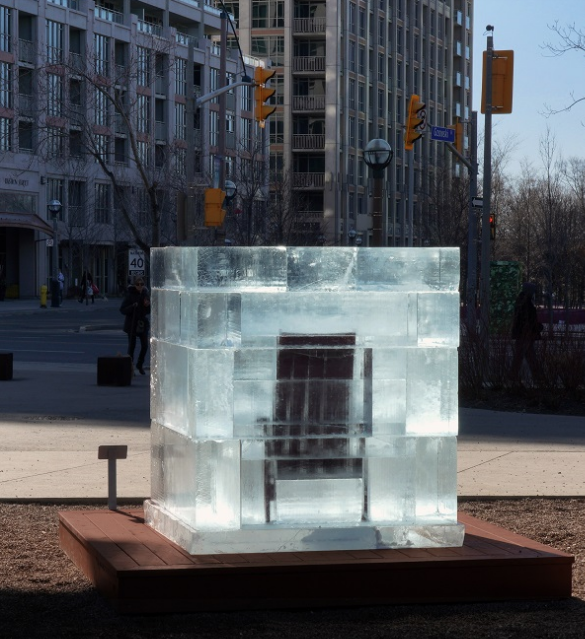 "Building that ice block was, from my understanding, very intense," Alie says, so in Montreal – the next significant urban centre outside of Toronto that Canadian Tire targeted – the brand is relying on digital OOH to amplify nuances of Toronto's ice block activation without having to replicate it.
The Montreal campaign is also targeting high-traffic areas, but Canadian Tire partnered with Quebecor to leverage the publisher's DOOH inventory, outfitting 30 bus shelters with digital ads mimicking the ticking clock motif from the campaign's TV spot.
The ice block activation is also being amplified nationally with a media buy on The Weather Network's website, targeting the retailer's active family audience.
Outside of broader awareness-building, the brand also considered product levels when it came to channel tactics. Canadian Tire's legacy automotive category drives a need to be on TV, but because of ecommerce behaviour increasing (particularly among Gen X and Gen Y), the retailer leaned into digital channels, which took 55% of the campaign's media spend.
During the consideration phase, the brand shifted to intent-based targeting and lookalike audiences using first- and third-party data, which fueled programmatic placements for paid search, along with Youtube and Facebook ads, as well as the brand's first-ever AR Instagram filter campaign on social, plus premium video ads across networks like Bell and Rogers.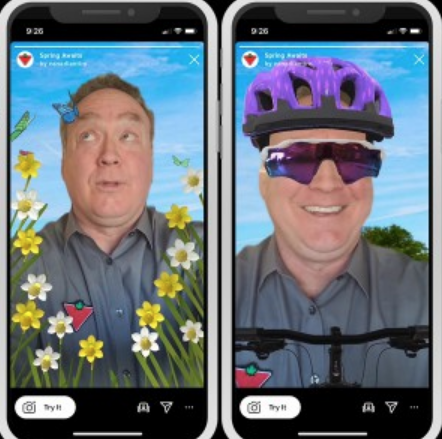 On the TV front, to ensure efficient reach across relevant channels, Touche! put together a media plan that contained "a mix of commercial and specialty stations," with a heavy emphasis on sports, primetime programming, and talk shows, says Alie.
She adds that it was important to pay attention to the duration of the videos that were placed online. The 30-second TV spot required 15-, 10-, and even 6-second iterations for digital placements to cater to "infinite scroll" tendencies and increasingly-lower attention spans.
Ultimately, while the spring campaign revolves around the awareness and consideration stages of the consumer journey, Alie says the goal is to garner three things.
First, increasing share of voice and further establishing Canadian Tire  as the country's "spring store." Second, growing share of heart, by relying on both strong emotional creative and contextual ad placements. And finally, creating more share of mind, "which builds on the recall around the creative," Alie says, adding that the team is achieving all three goals through a mix of location-specific, one-off experiential activations and a cross-channel national media buy to create one big countdown-to-better-weather campaign.
With files from Chris Lombardo and Josh Kolm.