CTV sweeps top five national TV rankings: Numeris
Police and hospital dramas, along with NHL hockey, stay popular in most markets.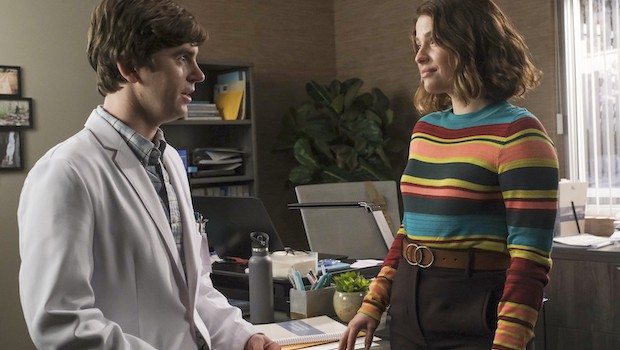 CTV programming dominated national TV rankings, sweeping the top five for the week of Mar. 22 to Mar. 28, according to the latest numbers from Numeris.
The Good Doctor returned to the top spot with 2.20 million viewers, followed by popular police procedurals The Rookie (1.88 million) and Blue Bloods (1.78 million). Grey's Anatomy stayed in the top five this week as well with 1.78 million viewers.
The Leafs and Senators tilt on TSN was popular in Toronto and Hamilton, taking the top spot with 489,000 viewers, and HNIC featuring the Oilers against the Leafs ranked first in Edmonton (125,000 viewers).
Saturday Night Live also made a top five TV appearance in Toronto (366,000 viewers) after a few months off the list.
Quebec's Francophone TV rankings continue with their consistency week over week, with Les beaux malaises 2.0 maintaining its top spot with 1.52 million viewers.
National
The Good Doctor on CTV Monday at 10 p.m.: 2.20 million viewers
The Rookie on CTV Sunday at 10 p.m.: 1.88 million viewers
Blue Bloods on CTV Friday at 10 p.m.: 1.78 million viewers
Grey's Anatomy on CTV Thursday at 9 p.m.: 1.78 million viewers
Station 19 on CTV Thursday at 8 p.m.: 1.69 million viewers
Quebec (Francophone)
Les beaux malaises 2.0 on TVA Wednesday at 9 p.m.: 1.52 million viewers
Star académie 2021 – Le variété on TVA Sunday at 7 p.m.: 1.39 million viewers
En direct de l'univers on SRC Saturday at 7 p.m.: 1.36 million viewers
Toute la vie on SRC Tuesday at 8 p.m.: 1.30 million viewers
5e rang on SRC Tuesday at 9 p.m.: 1.25 million viewers
Toronto/Hamilton
NHL Hockey – Leafs vs. Senators – on TSN Thursday at 7 p.m.: 489,000 viewers
The Good Doctor on CTV Monday at 10 p.m.: 475,000 viewers
Blue Bloods on CTV Friday at 10 p.m.: 405,000 viewers
Saturday Night Live on Global Saturday at 11:30 p.m.: 366,000 viewers
Grey's Anatomy on CTV Thursday at 9 p.m.: 358,000 viewers
Montreal
The Conners on CTV Wednesday at 9 p.m.: 73,000 viewers
The Rookie on CTV Sunday at 10 p.m.: 70,000 viewers
The Masked Singer on CTV Wednesday at 8 p.m.: 68,000 viewers
Station 19 on CTV Thursday at 8 p.m.: 63,000 viewers
This is Us on CTV Tuesday at 9 p.m.: 62,000 viewers
Edmonton
Hockey Night in Canada – Oilers vs. Leafs – on Sportsnet Saturday at 5 p.m.: 125,000 viewers
The Rookie on CTV Sunday at 8 p.m.: 100,000 viewers
The Equalizer on Global Sunday at 9 p.m.: 94,000 viewers
New Amsterdam on Global Tuesday at 8 p.m.: 94,000 viewers
The Curse of Oak Island on History Sunday at 10 p.m.: 78,000 viewers
Calgary
The Rookie on CTV Sunday at 8 p.m.: 120,000 viewers
The Good Doctor on CTV Monday at 8 p.m.: 105,000 viewers
The Equalizer on Global Sunday at 9 p.m.: 103,000 viewers
New Amsterdam on Global Tuesday at 8 p.m.: 92,000 viewers
Station 19 on CTV Thursday at 9 p.m.: 87,000 viewers
Vancouver/Victoria
The Masked Singer on CTV Wednesday at 8 p.m.: 206,000 viewers
The Good Doctor on CTV Monday at 10 p.m.: 174,000 viewers
New Amsterdam on Global Tuesday at 10 p.m.: 170,000 viewers
60 Minutes on Global Sunday at 7 p.m.: 167,000 viewers
Saturday Night Live on Global Saturday at 9 p.m.: 162,000 viewers