Horizon develops multichannel campaign to fight Asian hate
The agency joins effort against racism with a PSA campaign spanning Canada and the U.S.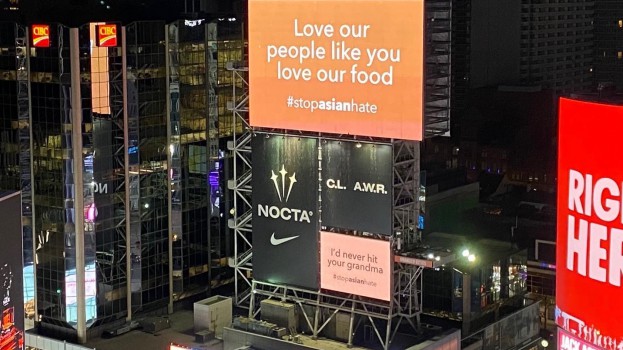 A group of Asian employees within Horizon Media have launched a new public service campaign in support of Asian American and Asian Canadian communities that have long had to deal with discrimination in silence.
The campaign is a compilation of personal stories written and told by Asian American and Canadians who are in leadership roles within Horizon Media, directing people to use the #stopasianhate hashtag to raise awareness. In Canada, the project was led by Horizon's Nileen Ventura, VP channel insights and discovery, and Cobi Zhang, director of media investment and activation.
Zhang says it's important that racism against the Asian community be addressed, as the long-standing issue has worsened during COVID. "As a first-generation Asian Canadian, the issue really hits home. Tragic incidents not only happened in the U.S., they also continue to happen in Canada with many of them unreported."
The campaign launched in Canada and the U.S. on Mar. 29, with ads running through the month of April and into May, in time for Asian Heritage Month in both countries.
Dubbed "We Are," the initiative from the group, called Horizon East, spans out-of-home, radio, social and digital, and taps a wide range of high-profile ad partners to unveil the campaign across donated media in the U.S. and Canada.
The open-ended title lends itself to various strains of the campaign, which all begin with the phrase, and exemplifies the feeling in many Asian communities, such as "We are not invisible" and "We are hurting."
OOH elements will display slogans like "Racism is not an opinion" and "Racism is not an option" alongside the hashtag #stopasianhate on plain-colour backgrounds that reflect the diversity of Asian skin tones.
In Canada, these messages can be seen across OOH activations in Toronto, Vancouver, Calgary, Edmonton and Winnipeg, through the support of media partners such as Astral, Branded Cities, Vendo Media, AllVision, Pattison and Outfront.
One hundred and seventy-nine radio stations across 54 Canadian cities and towns have started airing the audio PSA voiced by Horizon employees and their families. It can also be heard on CBC Podcasts and via streaming platforms like Spotify, AccuRadio and Tune In.
Kevin Kivi, EVP and general manager of Horizon Media in Canada, says the agency's goal is to make changes through speaking up and standing up for the Asian community. "This project is a product of Asian voices here at Horizon. It comes straight from the hearts of our employees. The concept was born from the personal experiences many have faced with racism, and all forms of hate. As advertising professionals, we have the ability to influence, drive change and to raise awareness of issues within the community."