Zabiha Halal perfects its recipe for efficiency
In the third year of its "Sharing Halal" campaign, the Maple Lodge Farms brand is figuring out how to get the most out of its targeting.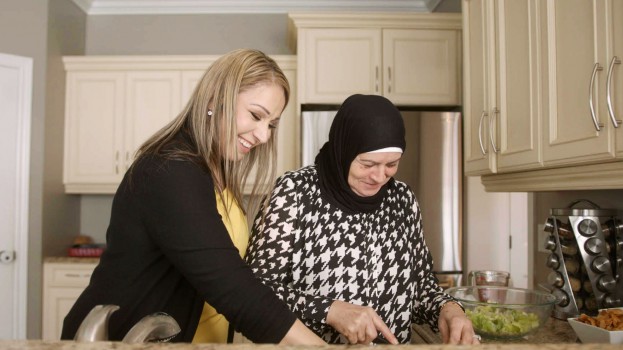 After two years of experimentation and analysis, Zabiha Halal adjusted its media strategy year-over-year to justify ongoing investment in its "Sharing Halal" campaign, cracking the code in its third year.
The pandemic forced Canada's number-one Halal food brand to take its campaign – which has always been centred around telling the stories of Canadian Muslims – virtual this year, but learnings over the past two years triggered additional changes to ensure the activation was delivering on expectations.
"There was a lot of wasted spend in the first couple of years," admits Lucas Metz, brand manager for Zabiha Halal at its parent company, Maple Lodge Farms, noting that, in hindsight, the campaign targeting wasn't as efficient as it could be.
"It was a challenge for us to secure additional media dollars because the targeting just wasn't where it needed to be and we were reaching the wrong people," he tells MiC. In the past, targeting for the campaign was too narrow at two levels – its specificity in looking to reach South Asian Muslims, as well as geographically, focusing on Muslim Canadians in and around the GTA in year one, and largely Ontario in year two.
This year, the brand is telling stories about three Muslim Canadians to a nationwide audience, expanding geographic targeting, while narrowing in at the same time to address Muslim communities at a local level across Canada. More specifically, the campaign featured small businesses started by Canadian Muslim women in London, Ontario; Edmonton, Alberta; and Vancouver, British Columbia, which is reflected in the geo targeting.
The virtual cross-Canada road trip shares the stories through a series of videos featuring host Hoodo Hersi, a Toronto-based Muslim comedian, virtually "hitting the road" to share a Halal meal with the three women.
Deeper dives into social engagement and postal code research each year told Metz and Sarah Khetty, director of marketing at Maple Lodge Farms, that there were some assumptions built into their targeting that precluded broader coverage encompassing a more diverse range of Canadian Muslims, rather than South Asian-specific audiences.
"We have South Asian people who are participating [in the campaign], people who are Middle Eastern, African… all through that same Halal lens," Metz says. To address that, they worked with their media agency, Media Dimensions, to refine the activation, including looking at key terms, languages and immigration origins.
The campaign is primarily digital, running on Instagram, Facebook and Youtube with "smaller social buys to support additional content," says Metz.
It is also leveraging Instagram TV for the first time to capitalize on what Metz describes as great engagement from younger Halal consumers.
He notes it has explored channels like TikTok, but left it out this year because it wanted the channel mix to be driven by one highly-engaged platform, in turn supported with buys on YouTube and Facebook.
The goal for the campaign has always been to hit 25 million impressions, but "because we've become more targeted and specific with our media buys, we've actually been able to reduce the media [spend] while maintaining the same amount of impression share in the first year," Metz says.
Outside of Media Dimension's management of the media buy, Riddoch Communications handled the campaign creative, King Ursa handled digital and Craft managed public relations.