Pattison Outdoor wants to measure OOH on the move
A new dashboard helps advertisers evaluate and measure moving transit activations.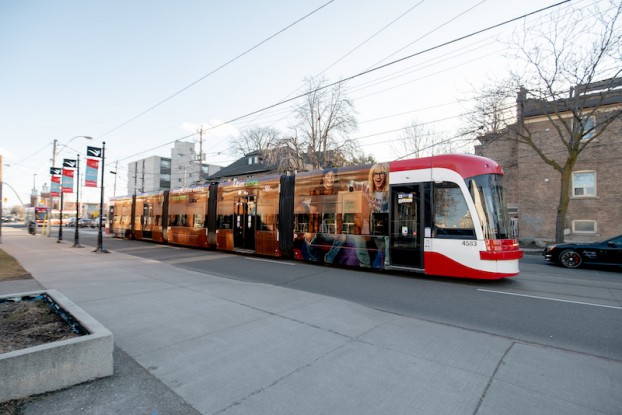 Pattison Outdoor has launched a pilot program for the industry's first tool that will measure moving OOH in transit, reasserting static OOH as a strong pillar in the company's media mix.
SweetSpot Transit Streetcar Measurement is a reach curve transit advertising dashboard that shows the optimal audience reach and frequency by media spend for large-format streetcar campaigns. The pilot project kicks off with a streetcar vinyl wrap activation on the Toronto's TTC system.
"The OOH industry achieved a major milestone when mobile location analytics was brought into the static outdoor space," Bob Leroux, VP and general manager, national sales at Pattison Outdoor Advertising, tells MiC. "The natural evolution was to bring similar data sets and audience insights along with attribution to moving transit, which represents a significant portion of OOH advertising."
He says the SweetSpot platform provides an optimization tool similar to what agencies get for online platforms. While the TTC network is the focus of the pilot program, Leroux says the plan is to roll it out "across all transit and stationary OOH assets for a complete national omni-channel exposure planning experience."
The dashboard is built in partnership with Docma, a technology company specializing in media and marketing science. It incorporates probabilistic reach and frequency methodology and geofences streetcar stops in real-time, depicting the route map along which the advertising campaigns are activated.
Then, through anonymized mobile device ID data, Docma records the unique IDs in the geofenced area at the same time the streetcar passes through, along with the number of times they re-enter the target area and the time they spend there.
The dashboard also layers in postal code data, ultimately delivering reach curve audiences defined by Environics Analytics demographic and behavioural reports.
"The tool is extremely sensitive to time in market as well as the number of ad assets in the market," Leroux says. "We've run a number of test scenarios using the SweetSpot tool, and at a broad level, we have seen a 12-week campaign for three full-wrap streetcars generate approximately 43% reach for the A5+ Toronto/GTA population."

Additionally, Leroux says the dashboard can run scenarios against specific target audiences using affinity data and Environics' PRIZM personas (30,000 data points across 67 segments that capture current demographics, lifestyles and values in Canada).
SweetSpot also incorporates legacy ad recall research Leroux says Pattison has been developing for some time. He notes that the platform doesn't just provide insight around exposure planning, but through the integration of historical analysis, it can "help manage the expectation, or standard – for not only scale, but also impact – which will be a noticeable evolution in the Canadian OOH industry."
In an increasingly digital landscape where measurement, attribution, and ultimately performance is key, advertisers not only need to maximize activation reach, but justify the associated expense. Leroux states that SweetSpot helps assess moving transit's role and investment in the channel mix.
How does a wrapped streetcar compare to a superboard? After 25 years selling transit OOH, Leroux says he's excited to finally be able to provide an answer. "Toronto streetcars are 100-foot long moving superboards, providing amazing reach throughout the market. Now we can prove it. The next logical steps include applying the methodology to Toronto subway trains and LRT vehicles, such as we have in Calgary and Edmonton."