Schmooz sees potential in dad-focused content
The social agency has acquired Daddy's Digest, providing a channel to bridge the gap between mom blogs and content for dads.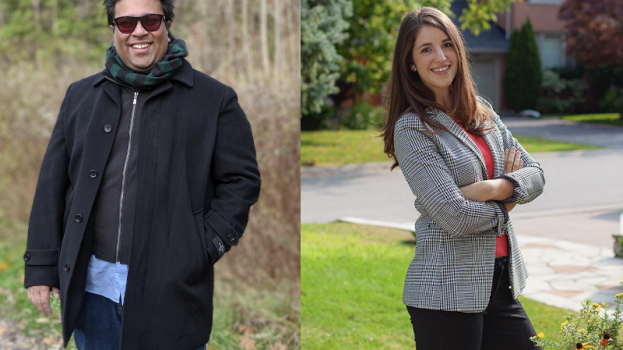 To fill the gap between female-centric "mom blog" content and material for dads, Toronto-based digital agency Schmooz Media has acquired Daddy's Digest, a global online publication focused on all things fatherhood and family.
While Schmooz has primarily functioned as a social media marketing agency to date, Zoe Share (pictured right), the company's CEO – a former teacher who co-authored a book for kids and families called ABC Stay Home with Me – says her goal has always been to build her own communities and channels that could help brands express like-minded values.
Daddy's Digest was created by Vickram Agarwal (pictured left), now-managing director of Toronto's Black Rock Marketing. The project started in Dubai in April 2018 – where Agarwal was based at the time – as a global resource focusing on content for dads.
He put together a mix of user-generated content, material authored by parenting experts and instructional content vetted by experts in video and written formats. Though he could not provide current or Canada-specific audience numbers, the site grew to over 1 million users, and 375,000 reads per month at its peak. It currently has over 800,000 followers on Facebook, 30,000 followers on Instagram, and over 5,000 on Twitter.
He moved to Canada in July 2019 and the publication became more of a side-gig as Agarwal started at Black Rock Marketing. In that role, he would eventually connect with Share who had been watching her husband struggle to find quality, "emotionally intelligent and expert content" for dads online. Agarwal and Share discussed the opportunities around the publication here in Canada, and put together a deal for Share to acquire the property, with Agarwal staying on in an advisory capacity.
She wants to continue building Daddy's Digest, adding more video and podcast content. As she moves towards monetizing the platform through partnerships and sponsorships, she says she wants to make sure the brand is positioned to give back to Canadian families in need.
Once profitable, Share says a percentage will go towards "parenting courses for dads, likely in low-income neighbourhoods."
"The Canadian and North American audience is growing," Share adds, "but the opportunity to reintroduce the brand and community is one of the reasons I am so excited about Daddy's Digest. It is also important to me that we celebrate and discuss the global issues of fatherhood. I have a particular interest in dads who are also new immigrants and how they adjust."